Can Gary Johnson Win Ron Paul Voters in the General Election?
He'll most likely be on the ballot now that he is vying for the Libertarian Party's nomination.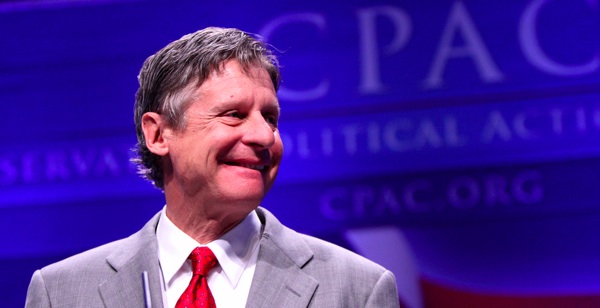 After Gary Johnson's official announcement Wednesday that he'll seek the Libertarian nomination in 2012, he sent his supporters an explanatory email, asserting that in New Mexico he always governed as a libertarian, and has recently become disillusioned with the GOP. "Candidates with no national name identification like Herman Cain, Rick Santorum and Jon Huntsman were allowed to participate in the debates," he observed. "Incredibly candidates with no executive experience like Michelle [sic] Bachmann and Rick Santorum were allowed to participate while I, a successful two-term governor with a solid record... was arbitrarily excluded."
Johnson went on to stress how unhappy Americans are with their current choices in the presidential contest. "Depending on which poll you read, at least 40% of Republicans are not satisfied with the 'field' of candidates the media has produced for them. At least 1 in 4 Democrats is having real second thoughts about Barack Obama," he wrote. "We will offer a political home for millions of Americans who are not finding one in the current political establishment."
What about the cantankerous elephant in the room? "While Ron Paul is a good man and a libertarian who I proudly endorsed for president in 2008, there is no guarantee he will be the Republican nominee." In fact, odds are he won't be the GOP nominee. But what then? The Texas congressman could dramatically affect Johnson's candidacy by endorsing him. Just a easily, he could eclipse it, as he did in the GOP primary, by launching a third-party bid of his own.
(My profile of Gary Johnson from earlier this year is
here
.)

Image credit: Reuters