Are the Republicans Holding Too Many Debates?
With still more televised forums scheduled during the GOP presidential primary, fatigue is starting to set in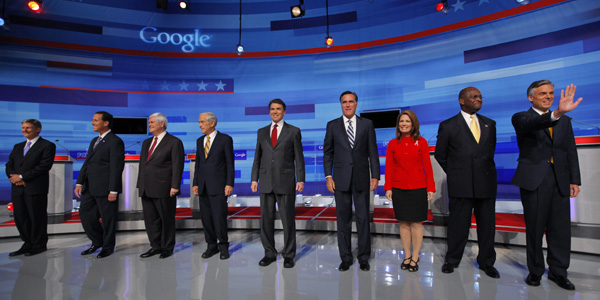 Said the 2008 Republican nominee John McCain on Sunday: "If I had, frankly, a criticism of the process, it is that I think maybe we're really getting a little too heavy on the debates.''
---
MORE FROM NATIONAL JOURNAL:
---
It's not an uncommon refrain. But so far, there have been roughly the same number of debates in this election cycle as there were in the last Republican primary.
McCain participated in 10 debates televised on major network or cable channels as of this time four years ago, missing only the PBS debate in Baltimore on September 2007, for a total of 11 debates in all. He subsequently appeared in six more before clinching the nomination.
This year, if you don't count the May 5 debate in South Carolina that didn't include several major candidates, Thursday's debate in Des Moines will be - you guessed it -- No. 11. (No, I'm not counting Mike Huckabee's Saturday night special or Donald Trump's wanna-be reality show or the Newt Gingrich's Lincoln-Douglas-esque debates.) Another 11 debates are proposed between Thursday and March 19th, but who knows how many of those will materialize.
The perception that the 2012 GOP primary has been overloaded with debates may stem from their impact more than their quantity. Michele Bachmann, Herman Cain and Newt Gingrich have all seen their poll numbers soar after strong performances, while Tim Pawlenty and Rick Perry endured the opposite.
The best test of whether there are too many debates is the number of people watching them, and some have attracted twice as many viewers as they did four years ago.
Image credit: Scott Audette/Reuters