Anger With Congress Reaching New Levels
Pulling the lever, pulling the plug: Voters are ready to "throw the bums out."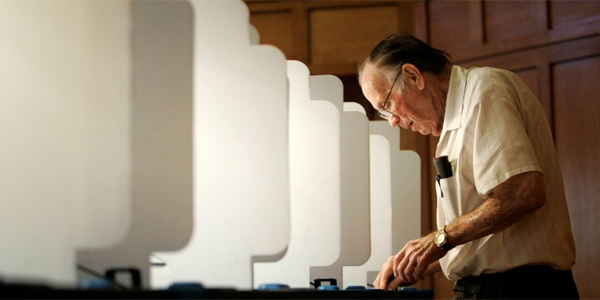 AP
Across a wide array of measures, Americans are now as dissatisfied with Congress as they were immediately before the 2006 and 2010 electoral landslides that ousted the majority party in one or both chambers, according to a year-end United Technologies/National Journal Congressional Connection Poll.
One year after Republicans made the largest gains in a midterm House election since 1938, the survey finds Americans still restless, dissatisfied, and profoundly pessimistic about Washington's capacity to make progress on the major problems facing the country.
In the survey, independent voters--whose shifts in allegiance helped trigger both the big Democratic gains of 2006 and last year's Republican revival--display little faith in either party, and register a strong initial inclination to vote against their own incumbent member of Congress. Not only a solid majority of independents, but also a surprisingly large share of Republican and Democratic partisans, say they are reluctant to give either party control of both chambers, preferring instead a divided government where both can "act as a check on each other."
All of this points toward more volatility ahead after three consecutive elections in which control of at least 20 House seats has changed hands between the parties--the first time that many seats have shifted that often since the immediate aftermath of World War II.
In recent decades, the closest America has come to a true "throw the bums out" election was the scandal-shrouded, recession-colored redistricting year of 1992, when 13 Republican and 30 Democratic House incumbents were ousted and another 65 members retired. This survey highlights the possibility that incumbents in both parties could face similar risks in 2012, another redistricting year shaped by economic and political discontent.
The Congressional Connection Poll was conducted by Princeton Survey Research Associates International, which surveyed 1,008 adults by landline and cell phone from Dec. 8-11. It has a margin of error of plus or minus 3.7 percentage points.
The poll finds Congress receiving a positive year-end grade from a proportion of the public so small that it would seem members' supporters consist of little more than friends and immediate family.
Just 7 percent of those surveyed said that Congress this year had accomplished more than in other recent sessions. Fully 51 percent said it had accomplished less, while 34 percent said it had accomplished about the same.
That's the highest proportion of adults who have rated Congress's accomplishments as below-average in any previous Congressional Connection Poll or Pew Research Center poll since 1998. By comparison, only 36 percent said Congress had accomplished less than usual in a survey just before the GOP recaptured the House and severely reduced the Democratic Senate majority in 2010; only 43 percent had rendered a similarly negative verdict just before Democrats recaptured both the House and Senate in 2006.
This judgment produced rare agreement across party lines: sixty percent of Republicans and 51 percent of both Democrats and independents said this Congress had accomplished less than usual.
Similarly, just 6 percent said the two parties this year had worked together more than usual to solve problems; fully 80 percent said they had been bickering and opposing one another more than usual. That essentially ties the Congressional Connection Poll result from last summer as the most negative response on that question since the Pew Research Center began measuring it in 1998. The share of adults who say Washington is bickering more than usual is significantly higher than even during the impeachment of Bill Clinton in 1998.
In this swirl of discontent, President Obama receives slightly better marks than either party in Congress. Asked who has provided "the most responsible leadership this year on the key problems facing the country," a modest 34 percent plurality picked Obama, while 14 percent identified Democrats in Congress. Just 23 percent picked congressional Republicans as the most responsible, while an eyebrow-raising 20 percent of adults said none of them had demonstrated leadership.
Among independents, the number finding little leadership in any corner spiked to 29 percent. Only 57 percent of Republicans identified the congressional GOP as the most responsible; by contrast, over 80 percent of Democratic voters picked either Obama or congressional Democrats.
The poll found that just 9 percent of adults believe "most members of Congress have done a good enough job to deserve reelection," while a resounding 76 percent say "it's time to give new people a chance." That's comparable to the results on that question in a CBS/New York Times poll in fall 2010, and an even greater tilt against incumbents than in fall 2006.
Political strategists generally consider that measure less relevant than the related question that asks Americans whether they believe their own member of Congress "has performed his or her job well enough to deserve reelection." In the new survey, just 31 percent say yes, while 49 percent say "it's time to give a new person a chance"--results comparable to the findings last July. That's similar to the findings in October 2010 and much worse for incumbents than the attitudes in October 2006.
The most telling result on this question may be the inclination among independents, who provide the margin of victory in many districts and have careened between the parties over the past three elections. In the poll, just 25 percent of independents say they believe their own member of Congress deserves reelection, while 56 percent say they are now inclined to support somebody new.
Another telling measure of discontent is the resistance to investing either party with unified control of Congress. Although electoral analysts give Republicans a strong chance of holding the House while recapturing the Senate next year, just 18 percent of adults say they would prefer the GOP to control both chambers after the 2012 election "so they can implement their agenda." Only one-in-four want Democrats to exercise unified control. Fully 48 percent say they would prefer each party to control "one of the two chambers so they can act as a check on each other."
Divided government draws the most interest from independents, nearly two-thirds of whom say they would prefer that outcome. But, in another striking measure of disillusionment, even roughly two-fifths of both Democrats and Republicans say they would prefer split control that empowers each party to constrain the other.
Jobs soundly trump the deficit as the country's top priority for 2012 in Congress. Asked what they would most like to see Congress accomplish over the next year, 53 percent picked "a plan to create more jobs," compared with 28 percent who place the top priority on a plan to reduce the deficit, and 13 percent who most want Washington to repeal Obama's health care plan. The tilt toward jobs is greatest among Democrats, but a majority of independents also list that as their top priority. Republicans split more evenly among jobs, the deficit, and repealing health care reform.
Drilling down deeper, the survey found more support for Democratic plans to increase employment by boosting spending on infrastructure and grants to states to prevent layoffs (21 percent) than GOP priorities of reducing taxes and regulation (11 percent.) Ten percent supported investment in renewable energy, another favorite of Democrats, compared with 9 percent who backed the Republican priority of ramping up fossil-fuel production.
Yet there's little expectation that Washington will make progress on any of these challenges. Only about three in 10 say they have "a lot" or even "some" confidence that "the government in Washington, D.C., will make progress over the next year on the most important problems facing the country"; nearly seven in 10 say they have not much or no confidence at all. That's also the most negative response the Congressional Connection Poll has recorded on that question. About twice as many Democrats (47 percent) as Republicans (24 percent) express at least some confidence progress will be made. But more than four in five independents are pessimistic.
That finding underscores the persistent strain of alienation in the survey among independent voters, who have repeatedly snapped back and forth between the two parties since 2004--and now approach another volatile election year expressing deep disenchantment with both sides.