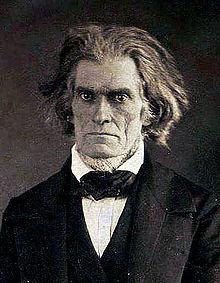 Maybe it's something about being a U.S. Senator from South Carolina. Today on Meet the Press, Sen. Lindsey Graham flat-out declared the Republican intention to nullify the already-passed legislation to establish a Consumer Finance Protection Bureau.  According to the transcript, with emphasis added:

So this consumer bureau that they want to pass is under the Federal Reserve. No appropriation oversight, no board.  It is something out of the Stalinist era. 

The reason Republicans don't want to vote for it is we want a board, not one person, making all the regulatory decisions, and there's no oversight under this person.  He gets a check from the Federal Reserve.  We want him under the Congress so we can oversee the overseer.

It is embarrassing but apparently necessary to point out that the bureau has already passed, it is the law of the land, and if the Republicans "don't want to vote for it" or "want" it run a different way, their option under the Constitution is to change the legislation or restrict the bureau's funding. Instead they are acting as if the established rules for "how a Bill becomes a Law" do not apply if they do not "want" them to.
This strategy depends absolutely for its success on its not being called what it is: Constitutional radicalism, or nullification. This is an extension of the media normalization of the filibuster, through stories that say a bill has "failed" if it doesn't get 60 votes. And on this program, neither Senate Democratic Majority Leader Dick Durbin nor moderator David Gregory noted the extraordinary claim that Graham had just made, treating it instead as normal election-year positioning. Here is what immediately followed Graham's comments above:

MR. GREGORY:  Finally, Senator Durbin, as you look at the president's prospects, you look at the status of his approval rating, how much of a challenge does he face for re-election?
SEN. DURBIN:  Let me tell you, what the president has done, particularly in the last few months, where he has stepped up with a jobs program, supported across the board by the American people, and said to the Republicans, either join me in moving America forward and creating jobs, or face the next election for a referendum on whether we're going to return to the failed Republican economic policies, I think that is a clear contrast.  What he said in Kansas brought us back down to basics.
After the jump, several reader replies on the long-term effects of routinized filibuster and nullification.