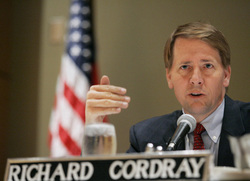 Before the episode recedes fully from the news, please read this item, by Jonathan Cohn on Thursday evening, about the extraordinary step the Senate Republicans took that day. Cohn says that the Republican minority's success in blocking a vote on Richard Cordray's nomination to head the Consumer Financial Protection Bureau amounts to "nullification," quoting Thomas Mann of Brookings to the same effect. They are right.  [As is David Weigel in Slate.] (Plain Dealer photo of Cordray.)
Nullification is obviously a loaded term. Historical context here: think John C. Calhoun, South Carolina, and struggles over federal/state rights in the years before the Civil War. But it is an appropriately dramatic term for the on-the-fly rewriting of the Constitution that the unified Senate Republicans have been carrying out these past five years.
Now the background, as I've touched on repeatedly starting two years ago.
- The U.S. Senate was never designed to be a "supermajority" body. You can look it up. The U.S. Constitution created an elaborate set of balanced powers; but within that model, the Senate was assumed to run by majority rule. The Constitution set out the few specific exceptions. Treaties require a two-thirds majority for ratification; two-thirds of each House must vote to override a presidential veto; when a president is impeached, it takes a two-thirds Senate vote for conviction; and so on. Otherwise, the Senate would pass or reject measures by majority vote, with the Vice President empowered to break an exact tie.