What Republicans Were Talking About a Quarter Century Ago
Old C-Span footage reveals a party trying to find a constituency beyond whites, grappling with changing cultural mores, and fearing the media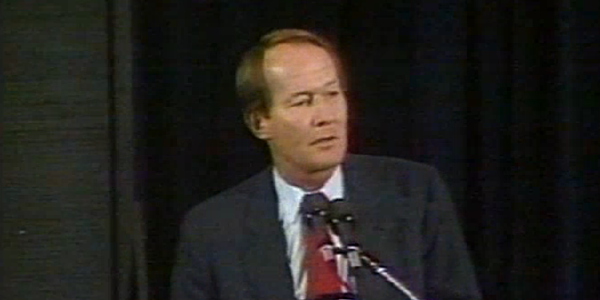 On C-Span there's an impressive archive of old videos that are as boring as you'd expect, but fascinating in their own way, if you can manage to sit through them. I've just watched a November 23, 1987 meeting of the Republican Governor's Association, where they go around the room brainstorming about what their values are and listing them on a big pieces of white paper.
Lamar Alexander is one of the men leading the group. There is a surprisingly frank discussion of the overwhelming whiteness of the party, and what was described as "a reluctance to reach out." The assembled also acknowledged that women entering the work force wasn't a cultural change about which the GOP couldn't do anything -- one of the suggestions aired was to open public schools for 12 hours each day so that kids wouldn't be home alone as both parents worked.
The part that give me the biggest kick is when Newt Gingrich, a guest at the meeting, lists what he regards as the GOP's values and behaviors. "I though I'd list three to be a little bit controversial," he said. "Free enterprise -- clearly our solution to jobs. Anti-communism -- in a sense, that's an extension of the Lincoln tradition of being in favor of freedom. And third, we're afraid of the news media."
He added, "Those are real characteristics of our party."
And so they remain. 


Image credit: C-SPAN