What Happens If the Mississippi Personhood Amendment Passes?
The latest state abortion measure is extremely broad, and it will likely come down to a close vote on Tuesday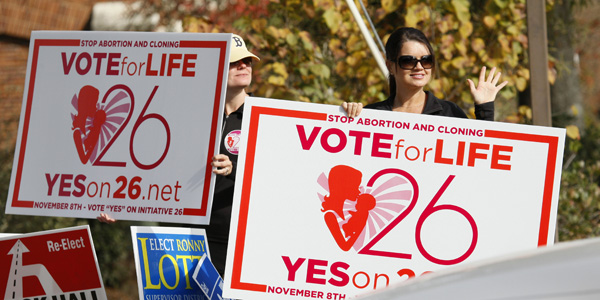 Mississippi voters today are casting ballots for and against Constitutional Initiative 26, the so-called "personhood" amendment to the state constitution seeking to define life "to include every human being from the moment of fertilization, cloning, or the equivalent thereof." Opponents of the measure warn it would outlaw not only abortion but several forms of birth control, plunging one of America's poorest and least-educated states back into the 1950s on the reproductive rights front and opening a pathway for other states to completely outlaw abortion. A close vote is expected and controversy over the measure has reached such a pitch in the state that Mississippi governor Haley Barbour said that "despite concerns" he'd cast an absentee ballot in favor of the measure last Thursday.
But even if the initiative passes today, it's unlikely that anything will change too quickly on the ground in Mississippi, where there is only one operating abortion clinic in the state. The Center for Reproductive Rights has pledged to file suit against the amendment immediately and expects the courts to issue an injunction against it because it "clearly violates the Constitution," according to group President Nancy Northup.
CRR remains optimistic that the broadly-worded measure, which is similar to two failed ballot initiatives in Colorado, will be defeated in the vote today. But if it isn't, says Northup, she expects it to be struck down. "It violates the Constitution and violates rights guaranteed in this country," she said, "including the right to privacy for women who want to make choices about contraception and reproduction."
But proponents of the measure say they've pressed forward anticipating a federal lawsuit -- and local injunction -- against it. Roberto Garcia-Jones, a legal analyst for the measure's main sponsor, Personhood USA, insists that the amendment won't go as far as its opponents say it does toward banning either abortion or birth control methods. Garcia-Jones argues because the ballot initiative only defines "personhood" within the context of existing laws and doesn't contain any provisions for enforcement or changes to existing laws, a lawsuit against the measure, if it passes, would be premature. Instead, Garcia-Jones says, a yes vote on 26 would free up Mississippi's legislature to make laws against abortion that carry penalties -- laws that he believes would pass quickly. "The legislature [in Mississippi] is very much in favor of it," Garcia-Jones says. The Mississippi legislature will pass "abortion-targeted legislation," he predicts, and leave birth control formally alone.
Northup remains skeptical of such arguments. "We have no intention of trusting the legal analysis of the initiative supporters," she says, "We're not going to take a risk that this is a meaningless provision."
Personhood USA has been relying on legal advice from the Liberty Counsel, a religious legal nonprofit closely affiliated with Jerry Falwell's Liberty University in Lynchburg, Va., according Liberty Counsel tax filings. Liberty Counsel general counsel Steve Crampton has been the lead attorney on defending Personhood's initiative in court thus far, successfully fending off the first round of challenges, filed in November 2008, against the measure from the ACLU and Planned Parenthood. Planned Parenthood and the ALCU argued that measure 26 violated Mississippi's state constitution, which explicitly states in Article III that amendments to its constitution cannot violate the Bill of Rights, and should not have been permitted to go to a vote. The Mississippi Supreme Court did not agree, and let the measure move forward.
But just because Crampton was successful in allowing the measure to be placed on the ballot doesn't necessarily mean that the Mississippi Supreme Court agreed with him on its merits. A close reading of the court decision, which was issued in September of this year, shows much of their thinking hewed to very limited legal grounds. The decision explicitly states, "This opinion in no way speaks to the merits of Measure 26, but rather focuses on whether Measure 26 is ripe for review by the judiciary, which is a question of law."
Additionally, the decision says that though Measure 26 seeks to "modify" the definition of person, that definition doesn't currently exist. Because the plaintiffs, in this case, Planned Parenthood and the ACLU, were attacking Measure 26 on "substantive" grounds and since the measure wasn't yet law, the court couldn't find in favor of them, it argued.
Crampton, who has been with Liberty Counsel since 2007, said in a recent interview archived online for the Liberty Counsel's radio program that the state's attorney general Jim Hood, an anti-abortion Democrat, has committed to defending the measure in court, should it pass. Says Liberty Counsel's co-founder Mathew Staver, "You can't get any more to one side in the spectrum than we are now, in terms of court precedent," admitting that Measure 26 is extreme under current law.
Ultimately, if the measure passes and goes through a series of state or federal court challenges, it has the potential to end up before the Supreme Court. Garcia-Jones of Personhood USA says there is some risk if the measure goes that far. He says he anticipates Personhood USA and its affiliates would be defending the measure on the grounds of the Tenth and Fourteenth amendments. The Tenth Amendment, typically used to defend the rights of states to enact legislation in the interest of its constituents, is the argument Garcia-Jones expects would be most likely to gain judges' support.
"Some of the pro-life groups that aren't on board with our strategy say this measure could create an equal protection defense on abortion," he says. This has long been the argument Justice Ruth Bader Ginsburg has used in her arguing on behalf of women's rights. When dissenting in Planned Parenthood vs. Casey in 1992 Ginsburg, for example, argued that women are explicitly granted the right to abortion under the Fourteenth Amendment, granting them equal protection under the law. "Ginsburg, she's the most radical on the abortion rights side and supports this position," says Garcia-Jones. "What it would take for that to happen, from Roe to equal protection, someone like Kennedy to switch to the pro-abortion position."
But Northup expressed doubt that Kennedy would endorse what she calls a "radical" position. When Roe vs. Wade was challenged in 1992, Kennedy was the deciding swing vote in reaffirming the core principles of Roe. "It's hard to imagine that this would cause Kennedy to move off his position on this," Northup says.
For now, both Measure 26's supporters and pro-choice activists like those at the Center for Reproductive Rights are waiting to see what the outcome of today's vote will be. Even if it's defeated, Personhood USA won't let up its efforts anytime soon. If the amendment does pass, the measure could be tied up in court for years. For both sides, this will probably be a long battle.
Image credit: Rogelio V. Solis/AP