What Comes After a Polling Surge? For Gingrich, New Staff and Offices
Once derided as a vanity candidate, the Georgia Republican has laid the foundation for a serious early-state effort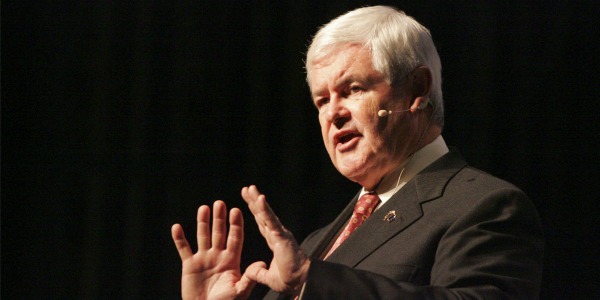 Newt Gingrich was in South Carolina on Tuesday, opening a new campaign office -- bringing the total to five, manned by a paid staff of 10 -- and stumping across the state.
Next, he'll be back in Iowa, where his campaign has just signed a lease on space in Des Moines and plans to have seven offices by the time of caucuses, just five weeks away on Jan. 3. In New Hampshire, where Gingrich recently got a boost in the form of an endorsement by the state's biggest newspaper, he has three offices and eight staffers.
Campaigning in the early states. Building the infrastructure and field staff to turn out primary and caucus voters. After months in the wilderness, Gingrich is behaving like a man with a shot at the nomination.
Though Gingrich's ground game is far from a formidable effort -- neutral observers in the early states say a campaign that previously was practically nonexistent now is desperately scrambling to catch up -- his operation has come a long way since the days he barely seemed to be running for president at all.
And unlike the other candidates who have stumbled into the Republican primary electorate's momentary favor this year, Gingrich is doing his utmost to capitalize on his time in the spotlight.
South Carolina is the state where Gingrich is making the biggest organizational push. The game plan: place well in Iowa, score a strong second-place showing in the Mitt Romney-owned territory of New Hampshire, and ride that momentum to a win in South Carolina.
After a summer in which most of his staff abandoned him amid concerns his supposed presidential run was really just a glorified book tour, "It appears he has cottoned to the idea," said Chip Felkel, an unaligned GOP consultant based in South Carolina.
"One would have to give him credit for playing the role of Lazarus somewhat, because he was clearly dead and buried," Felkel said.
In Iowa, Gingrich is basically starting from scratch. "I call him the Chia Pet of the caucuses -- he's growing from air," said Doug Gross, a lobbyist and former Republican gubernatorial nominee. "At the end of the day, he's got to have some organization to transfer this interest and excitement into turnout, and that's a major challenge with five weeks to go."
But Gingrich has hired back two respected Iowa hands who left his campaign in June -- Craig Schoenfeld, a caucus veteran who worked on George W. Bush's campaigns, and Katie Koberg, formerly of Iowans for Tax Relief. And rather than maintaining the delusion that he can do well in the caucuses without organizing, Gingrich is taking the task head-on, Gross said.
"They're trying to tackle the challenge. They're smart enough to know it exists," he said. "And other than Ron Paul, none of the other candidates has a good organization here, so it's a low bar."
The campaign expansion is backed by a resurgent fundraising effort -- as of two weeks ago, Gingrich had raised $4 million for the quarter that began in October, spokesman R.C. Hammond said. And while his current upward trajectory in national and state-level polling has come on suddenly, abetted by the collapse of Herman Cain, Gingrich has been laying the groundwork for this moment since mid-October, when he began deploying staff to the early states.
In New Hampshire, Gingrich's campaign is "a startup effort that's about a month old," said Fergus Cullen, a former state GOP chairman. "They were literally installing phones at headquarters yesterday -- up until then they'd been on cell phones."
With six weeks to go until the primary, it will be a scramble for Gingrich to put together an operation in the Granite State. But he'll have air cover from the Manchester Union Leader, which endorsed him on Sunday: As the paper's longtime publisher, Joe McQuaid, once famously told the Washington Post, "The Union Leader's style is we don't just endorse once. We endorse every damn day."
And then there's South Carolina, the state that has picked the winner of every Republican presidential nominating contest since it started holding an early primary in 1980.
"Early on, it looked as if [Jon] Huntsman and Perry were putting together quite good field operations, but lately, I see a significant amount of activity out of the Gingrich side," said Robert Cahaly, an Atlanta-based consultant who works extensively in South Carolina. Gingrich, he said, is touring the state, drawing big crowds and hiring staffers with Tea Party credentials.
"Rick Perry was the natural" to win over the state, said Clemson University political scientist David Woodard, also a GOP political consultant. But now that Perry has fizzled, Gingrich -- who is sort of a fellow Southerner, having represented Georgia in Congress, though lacking a Southern accent -- may have the best shot, he said.
Woodard recalls getting Clemson to approve for college credit a course Gingrich had come up with, "Renewing American Civilization," in 1993. When word got out that a state school was propagating the ideas of a leading national Republican, a firestorm of controversy ensued. Gingrich, rather than downplay the furor, came to Clemson to speak to the students himself.
It was, as Woodard put it, "a typical Newt sort of thing." And for a while this summer, Gingrich for President appeared to be just another one of the pet projects the former speaker is perpetually concocting.
He traveled to states with no say in the Republican nominating process, signing copies of his latest book or screening his documentary about Pope John Paul II. Most notoriously, he went on a Mediterranean cruise just weeks before the Iowa straw poll. That was the last straw for most of his staff at the time, precipitating the implosion that led many to conclude his campaign was over. In the straw poll, he placed eighth.
"A lesser person could not have survived the first few minutes of the onslaught," then-Gingrich spokesman Rick Tyler wrote during an even earlier rocky stretch for the campaign. "But out of the billowing smoke and dust of tweets and trivia emerged Gingrich, once again ready to lead those who won't be intimated by the political elite and are ready to take on the challenges America faces." A few weeks after he wrote that, Tyler, too, left the Gingrich campaign.
These days, Gingrich casts even the cruise as a wise decision: "I'm very glad we went to Greece," he said in a recent interview with Newsmax. "You look at the crisis in Greece right now, and I can tell you having been there, having talked to people, I have a much better understanding about what's happening in Europe."
Iowa-based conservative radio host Steve Deace said in an interview that unlike Michele Bachmann and Rick Santorum, Gingrich doesn't have to win in Iowa, just show he's in contention.
"Iowa is just a playoff game; South Carolina is the Super Bowl," Deace said. "Newt just has to get into the playoffs in Iowa. South Carolina organizationally is much more important for him."
Gingrich has plenty of liabilities to overcome: His marital history. His position on immigration. His years in the influence business, during which he took millions from such Republican betes noires as Freddie Mac. His litany of moderate stances and GOP-unfriendly sound bites, from the time he taped an anti-global warming commercial with Nancy Pelosi to the time he called Paul Ryan's budget proposal "right-wing social engineering." Gingrich blames his earlier campaign implosion on the consultants who wanted to stage-manage him, but he'll have a hard time running the massive operation of a national campaign without either political professionals or a bit of self-discipline.
But now that so many candidates have found and lost favor with the conservatives who want anybody but Romney to be their standard-bearer, Gingrich is selling himself as the pick of a bad litter.
"Newt has constructed a campaign to be everybody's second choice," Deace said. To the establishment, he's a grown-up with heavyweight credentials; to the grass-roots, he's a tough talker who goes after the media and wants to throw Barney Frank in jail. The polling bears out this idea.
When Cain was riding high, he nonetheless eschewed the beaten track of the early states, sticking to his "unconventional," media-driven itinerary. Perry's campaign was too busy ramping up to focus on organizing in Iowa, and Bachmann's operation was falling apart even as she reached her peak.
Gingrich's camp, on the other hand, feels the former speaker is peaking at exactly the right time: just when the campaign's organizing efforts were starting to materialize, and with just a few weeks before the voting starts.
"Does he have a possibility here? Yeah, he certainly does," said Gross, the Iowa operative. "But I've noticed over the years that he's usually at his worst when he's at his best. He gets reckless. We'll see whether or not he can control his chutzpah."
Image credit: Reuters/Mary Chastain