The 2012 Campaign's Big Iowa Mystery
Why hasn't any candidate built an organization capable of challenging Mitt Romney in the state where he should be weakest?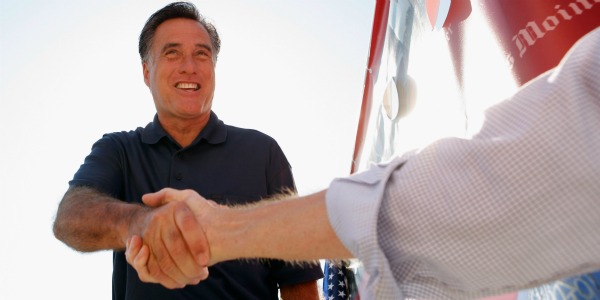 DES MOINES -- There is a way to win the Iowa caucuses. Presidential candidates have been doing it for decades, writing a well-known rulebook and wearing tracks in the state's rural byways.
But this year, despite a crowded field of candidates ardently seeking the Republican nomination, nobody is doing it. Why not?
It is the central mystery of the 2012 campaign thus far from a strategy standpoint -- and potentially the pivotal missed opportunity for the array of candidates aiming to challenge Mitt Romney's position as national front-runner in the state that should have been his Achilles' heel.
"None of the candidates seem interested in doing the work to win Iowa," said Craig Robinson, a GOP strategist who runs a news site called TheIowaRepublican.com. "Romney's been able to hang onto his 20 percent here mainly because no one's ever challenged him for those voters. You talk to people out in Scott County, in Eastern Iowa, and the candidates just aren't out there. No one's really trying to take those voters away from Romney."
With just six weeks until the Jan. 3 caucuses, many longtime Iowa hands are at a loss to explain the relative vacuum in what's usually a hive of activity.
By September of 2007, Barack Obama had 145 paid staffers in Iowa, and Romney had 67. Today, the two biggest campaign staffs -- Michele Bachmann's and Rick Perry's -- are tied at 11 workers each, according to a recent analysis by the Des Moines Register.
Campaigns in Iowa have traditionally shown their organizational strength by signing up campaign chairmen in each of the state's 99 counties. It's a feat that's about much more than just bragging rights -- the county chairs form the network that ensures that, on caucus night, the candidate is represented in all 1,784 precincts across the state where voters have gathered alongside their neighbors.
"The Iowa caucuses are not a primary. You have to have those 1,700 precincts covered where someone stands up and gives a speech for you on caucus night," Robinson said. "A lot of these candidates seem to be going into caucus night just hoping people show up for them."
In conversations with Iowa activists and operatives, the fact that no candidate has 99 county chairs comes up again and again -- a sign not only of a campaign in flux but also a vexing departure from long-obeyed tradition.
"It's unheard of to be this late in the game and not have your 99 county chairs. That's the first thing you check off," said Tim Albrecht, a longtime operative who serves as Gov. Terry Branstad's communications director. "When I worked for Steve Forbes' campaign in 1999, we didn't just have one chair for every county, we had four -- an agriculture chair, a business chair, a family chair and so on." And that was for a losing campaign.
The perplexingly fluid nature of the GOP field -- the hallmark of this primary campaign thus far -- can be in part ascribed to this lack of grass-roots organization. The candidates have enjoyed momentary favor based on national debates and other media exposure, but without an organization to turn that favor into loyalty, supporters don't stick. They go as easily as they came.
The disarray was evident in a poll conducted for Bloomberg News by veteran Iowa pollster Ann Selzer last week. It showed a four-way tie among likely caucus-goers: Herman Cain had 20 percent, Ron Paul 19 percent, Romney 18 percent and Newt Gingrich 17 percent.
"There are fewer staff people and there's less money being spent in Iowa" than in prior election cycles, said Rep. Steve King, who represents conservative Western Iowa. The candidates are also visiting less. But could a candidate actually win without following the usual Iowa playbook? "It's not been done before," King said. "And so they would be breaking new ground if they could win Iowa without doing the organization."
With Romney deciding he can -- or must -- win without Iowa, the state that humiliated him in 2008 by rebuffing his $10 million effort to win it, the caucuses represent the most obvious opening for any candidate hoping to topple him. And yet many of the power brokers who endorsed or worked for Romney in 2008 remain on the sidelines today. Why haven't the other candidates rushed to fill the void, snapping up the idle political talent and endorsements?
Some of the explanation lies in the particulars of the campaigns arrayed against Romney. None of the other candidates have much money, and organizing Iowa is expensive. Rick Perry, who does have money for his campaign, got in the race late.
Michele Bachmann won the Iowa straw poll in August, but then ditched the campaign manager and consultants who were advising her to keep up a laser-like focus on Iowa. Rick Santorum has run the most Iowa-centric campaign, visiting all 99 counties himself and campaigning tirelessly in town after town, but he lacks the funding to build out a full-fledged professional operation.
Two of the race's buzziest candidates, Cain and Gingrich, have pursued media-driven national strategies, to the point that both have lost disenchanted staffers who concluded they were more interested in their book tours than winning the primary. (Gingrich, now getting his second wind in the campaign, appears to have buckled down since those unserious early days.)
Ron Paul, the eccentric Texas congressman, is generally acknowledged to have the best Iowa campaign organization, a fact that helps to explain how he's vaulted into contention in the state despite being ideologically outside the Republican Party mainstream.
But ironically, the biggest reason no candidate has risen to challenge Romney in Iowa may be Romney.
The fundamental dynamic of the absentee front-runner has created a sort of reverse arms race in Iowa. Without a well-funded candidate dumping resources into the state, the organizational bar has been lowered, and the rest of the candidates have set their sights lower as a result.
"Mitt Romney set the pace last time," said Rep. King, adding ruefully: "He has perhaps set the pace this time as well."
Joe Gaylord, the veteran national Republican strategist who began his career in Iowa in the 1970s, said recent caucus cycles have seemed to reward the last-minute surge over the elaborate long-term plan. But there's also a sort of game of chicken going on.
"Because no candidate has started a huge organizational effort in Iowa, the others have also found it worthwhile for their campaigns not to do it right now," he said.
And so despite the way he's downplayed the state -- taking fire for it from Iowa partisans -- Romney still has one of the best Iowa organizations of the 2012 campaign simply by keeping in occasional touch with his 2008 supporters.
"They haven't been playing the game in the normal way, with a big event to open the campaign office and lists of people lined up as county chairs," Selzer, the Iowa pollster, said of Romney's crew. "But they still have people in every county. They have precinct people lined up. They have not been showcasing how much work they've actually been doing in the state, but they are positioned for a surge if they think there's a chance they could win."
It's possible that the current state of affairs is in fact the result of an extremely clever setup by the Romney campaign to lure his rivals into inaction, then ambush them with a stealth campaign he was secretly building all along. But while Romney is now ramping up in Iowa, opening a campaign office with minimal fanfare in Des Moines last week and planning to visit the state for the fourth time this Wednesday, his strategists seem as surprised as anyone else at the opportunity he may have there.
On Saturday, six GOP candidates participated in a social conservative group's forum at a church in Des Moines. All of them then drove half an hour to speak briefly at Gov. Branstad's 65th birthday party, held in the ballroom of an Altoona amusement park that was closed for the winter.
In an interview at his party, Branstad, now serving his fifth non-consecutive term as governor, said Republican voters in the state are keenly interested in this election because they are eager to toss out President Obama.
"We hope to get a great turnout at the caucuses so we can start to really turn this country around," said the governor, a short, bespectacled political lifer with a mustache that's become a trademark. He reiterated his call for Romney to increase his commitment to Iowa.
"It's important to have a ground game, and it's important to get out here in Iowa and see the people and answer their questions, because Iowa voters are pretty discerning," Branstad said. "They want to evaluate all the candidates before they make a final decision. You see a lot of ups and downs, but it's important to have the momentum going into the caucuses."
Meanwhile, across town, Iowa Democrats were holding their annual Jefferson-Jackson Dinner -- the event where, in 2007, a candidate named Barack Obama bowled over the crowd, establishing himself as a serious Iowa contender.
The speaker this year was Obama's former chief of staff, Chicago Mayor Rahm Emanuel, and he began his remarks by mocking the Republicans. "I've watched a number of [the GOP debates], and I've got to be honest, I never thought I'd say this," Emanuel said. "I'm beginning to miss Sarah Palin's insights." As he went on to ridicule Romney, Gingrich, Cain and Perry, the crowd roared.
It is Obama, far more than any of the Republican candidates, who has built and maintained a grass-roots organization. His presidential campaign has eight offices open across Iowa -- more than all the GOP contenders combined. Earlier this month, Obama volunteers phone-banked for a state Senate special election in Cedar Rapids, and the Democratic candidate won easily.
This is what keeps Iowa Republicans up at night: the fear that their candidates will have missed the organizing opportunity that the caucuses typically represent, leaving them out-gunned next November in a likely swing state.
After the Saturday forum held by the Family Leader, its head, erstwhile Huckabee campaign chairman Bob Vander Plaats, blasted Romney for skipping his event. Ultimately, he said, not playing in Iowa now will have consequences in the general election.
"Romney was the only [candidate] who stiffed us, and I think that's gone with his persona in how he's treating Iowa -- which happens to be a swing state, and he wants to win the presidency, which tells me he lacks judgment," Vander Plaats said.
Image credit: Getty Images/Chip Somodevilla