Religious Right Still Lacking a Champion in 2012 Field
As Baptist preacher Herman Cain's morals come into question, no candidate is inspiring evangelicals the way George W. Bush once did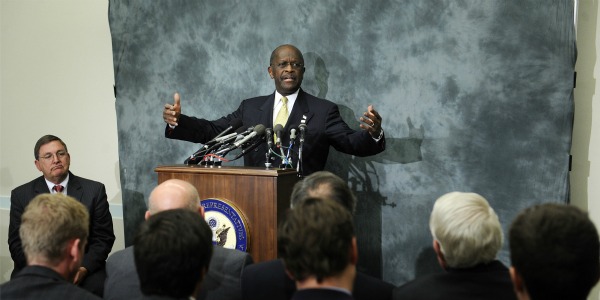 A leading figure on the religious right says conservative evangelicals are frustrated with their choices in the Republican presidential field.
Richard Land, president of the Ethics and Religious Liberty Commission of the Southern Baptist Convention, said the GOP candidates' tough talk on illegal immigration, as well as their anti-government fervor, are alienating Christian voters.
And it doesn't help that doubts have arisen about the personal morals of a candidate many social conservatives embraced -- Herman Cain, who is a Southern Baptist preacher in addition to being a former businessman.
The staunchly conservative Land insists evangelicals will be motivated to vote for the Republican nominee, whoever it is, by their antipathy toward President Obama and his policies. But in a panel at the National Press Club on Wednesday, Land's criticisms of some of the rhetoric and positions that have become commonplace in today's GOP were striking.
Asked whether the "compassionate conservatism" of George W. Bush has fallen by the wayside, Land said, "It existed, and it exists. One reason there's a lot of frustration on the part of evangelicals is we don't see anyone who's running who fits that model."
He added, "I am more of a Bushie than a Reagan or Perry on these issues. Reaganism believed that government is a necessary evil and we should have as little of it as possible. I happen to think government can be used as a way of empowering people to make good, positive decisions for themselves."
Land cited the post-World War II G.I. Bill as an example as well as a robust commitment to foreign aid. In addition, he bemoaned the demonizing of illegal immigrants.
"There has been shameless politicking on this issue from both sides of the aisle," he said. In their cynical jockeying for political advantage, he said, "One side has ginned up nativism, while the other side has ginned up fear in the Hispanic community." Meanwhile, the majority of Americans support some kind of comprehensive immigration reform.
Asked by an audience member to talk about Cain, who has spent the week embroiled in scandal thanks to continuing revelations about accusations of sexual harassment, Land appeared pained.
"I'm amazed at the amateurish way in which Mr. Cain has dealt with this issue," Land said. "He clearly had to know it was there -- if he didn't, then he's not competent to be president -- and he should have addressed it proactively."
Now, Land said, Cain had "better be completely transparent, or he will pay a price," particularly among voters who care about traditional values.
"If he can't answer questions and can't answer them with full transparency, then it will certainly harm him in the Republican primaries," Land said.
In particular, he said, "evangelical women are far less forgiving than evangelical men are on this issue."
Land's comments highlighted the seeming splintering of the religious right since the pinnacle of influence it seemed to reach under Bush.
The history of the Christian right is well known, from its rise to political power in the 1990s to its mass mobilization for Bush in 2000 and 2004. While white evangelical voters remain overwhelmingly Republican, Democrats, led by Obama, have made inroads with a younger generation of evangelicals who see issues like environmental stewardship and poverty relief as more important than litmus tests on abortion and gay marriage.
"Democrats for years were just shooting themselves in the foot with evangelicals" by positioning themselves as "secular fundamentalists," said Jim Wallis, the evangelical activist regarded as the leader of the social justice-focused "religious left," who appeared on the panel with Land. Obama, Wallis said, changed that with his emphasis on a moral vision for policy, and it was a key part of his victory in 2008.
While Wallis and land argued vigorously over economic policy along conventional partisan lines, they agreed that people of faith shouldn't avoid the political arena -- a view that's gained ground in recent decades in a community that was once told not to be worldly.
"When I was growing up, I was told that faith was really a private matter between me and the Lord," Wallis said. Now, he said, he agrees with Land that "faith is public. God is personal, but never private. We both agree and we've both argued with those who would restrict faith to the private sphere."
Land and Wallis may agree on this -- both of their bread and butter is political theology. But they also agree that the political climate is uglier and less compassionate than it's been in a long time, raising the possibility that religious voters, seeing no clear champion, could instead retreat from politics anew. That is, they might be so turned off that they stay home in 2012.
Image credit: Reuters/Jonathan Ernst