Newt Gingrich Really Is a Money Magnet
His campaign has struggled to raise money, but new details about his business interests should remove doubts about his fiscal prowess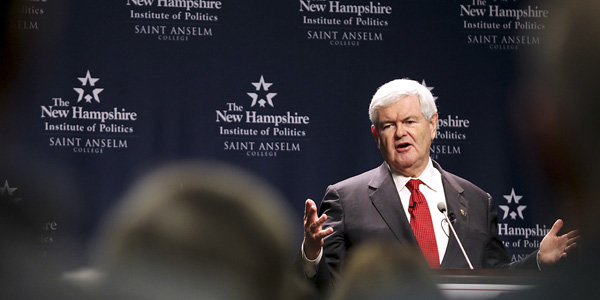 Before he officially entered the presidential race, Newt Gingrich's American Solutions for Winning the Future, a relatively unrestricted 527 group under the IRS code, absolutely crushed the fundraising numbers of his rivals' less-free-wheeling PACs. Now we've learned that the for-profit arms of the sprawling, metaphorical "Newt, Inc." raked in equally impressive wagonfuls of dough. Peter H. Stone reports at iWatch News:
On Monday, the two for-profit groups -- the Gingrich Group, a consulting firm, and a think tank, the Center for Health Transformation -- responded to a host of inquiries by revealing revenue figures. The organizations said in a statement that from 2001 through 2010 they worked for more than 300 members and clients, many of which are leading health care companies and insurers. The gross revenues from these members and clients came to almost $55 million, the statement said. Gingrich has now reportedly severed ties with both groups.

The $55 million in revenues comes on top of more than $50 million that Gingrich's political committee, American Solutions for Winning the Future, roped in over about four years before going out of business this summer soon after Gingrich kicked off his campaign for the Republican nomination.

The leading donor to the political committee during these years was multi-billionaire Las Vegas casino owner Sheldon Adelson, who ponied up $7 million.
The funny thing is, until his recent renaissance, Gingrich's actual campaign was poor. At the end of September, Newt 2012 owed nearly $1.2 million -- more than the $353,000 it had in the bank.
Gingrich is doing better, these days. Just like Rick Perry, and just like Herman Cain, Gingrich has seen the money flow in, along with his rise in national polls. His campaign staff told CNN that he had raised $3 million in October -- more than three and a half times what he raised in July, August, and September combined.
The $105 million Gingrich's enterprises made, over 10 years, may not seem like a lot compared to how much money gets spent yearly on political advocacy and the activities technically defined as lobbying. But more than any other candidate, Gingrich has flexed an ability to raise and make money through unrestricted means, with endeavors related to politics, policy, and advocacy -- but separate enough from "lobbying" to avoid federal registration forms, and separate enough from "campaigns" to avoid the financial restrictions that come with PAC work. Newt Gingrich is to the business of Washington what Mitt Romney is to business, period. The former speaker has been, in other words, a Beltway money magnet in the truest, most diversified sense.
Image credit: Cheryl Senter/AP