Mitt Romney Ramps Up Attacks on Obama
Judging by his latest barrage of criticism, the former Massachusetts governor is already running against the president -- sort of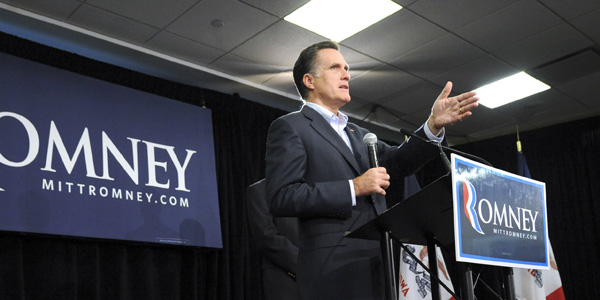 First there was the television advertisement in New Hampshire, which received widespread condemnation from the media elite for taking President Obama's words out of context. But widespread condemnation meant, for Mitt Romney's campaign, lots and lots of news coverage. And since then, while everyone else recovered from a tryptophan-induced stumble, while the Obama campaign had a Black Friday sale on its merchandise, the Romney campaign has gone on the attack, sending out no fewer than three separate releases castigating Obama for a variety of sins.
---
MORE FROM NATIONAL JOURNAL:
---
Romney, fresh off not getting the big New Hampshire Union-Leader endorsement (which, to be sure, was never really in the cards), trained his focus on Obama, telling an interviewer on WMUR that Obama has been "MIA" on deficit reduction, raising the specter that the U.S. could turn into Greece.
Here's a broadside from Romney spokesperson Andrea Saul, keying off a Politico article that notices how Obama has become his own worst critic:
"President Obama will say and do anything to hold on to power. Despite what he said he would do for the middle class, President Obama has failed to create a single net new job and has wreaked more havoc on the middle class than any president in modern history. President Obama himself concedes he hasn't delivered on his campaign promises - however, he is still asking Americans to reward his failures with a second term. It is clear that this election is going to be about Candidate Obama running against President Obama."
None of this has anything to do with the primary elections...sort of. One of the reasons why Republicans seem to like Newt Gingrich is that they imagine he'll do great in a debate against Obama. And he also has the governing chops to take on the chief executive. So Romney needs to elevate himself to the same level. A more public, national fusillade against Obama satisfies his primary audience -- now consisting of primary and caucus votes -- and keeps the foot near the vicinity of the President's throat.
Image credit: Steve Pope/AP