Mayor Bloomberg on Occupy Wall Street: 'The Final Decision to Act Was Mine and Mine Alone'
New York's billionaire mayor on ordering the park where the movement started cleared of tents and sleeping bags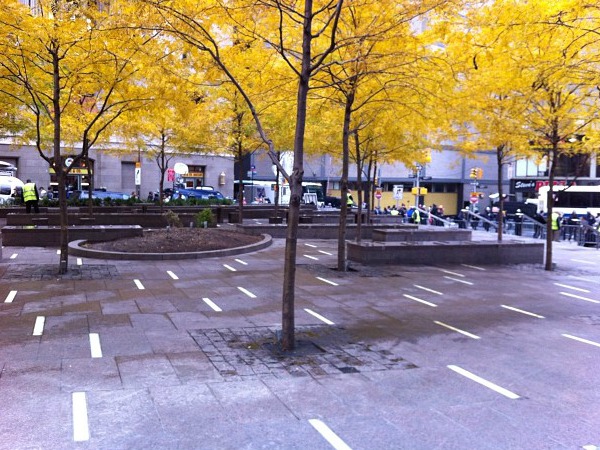 Overnight, the encampment at Zuccotti Park in lower Manhattan that sparked a national movement highlighting income inequality in America was uprooted by the New York City Police Department.
On Monday morning, Michael Bloomberg -- who, it should probably be noted, is also a billionaire and hence part of the 1 percent the Occupy Wall Street movement was protesting, in addition to being mayor of New York -- took sole responsibility for the action he said he ordered at the behest of Brookfield Properties, which owns the park, and out of concern for the health and safety of protestors and the neighborhood as the encampment neared its two-month anniversary.
"Make no mistake, the final decision to act was mine and mine alone," Bloomberg said in a morning news conference at City Hall.
"Protesters have had two months to occupy the park with tents and sleeping bags. Now they will have to occupy the space with the power of their arguments," Bloomberg said.
The action was taken "at Brookfield's request" in response to the "health and fire safety" risk the collection of tents and sleeping bags in the park posed, the mayor said, as well as reports of criminal activity in the park. "Inaction was not an option. We could not wait for someone in the park to get killed or to injure another protestor before taking action," he said.
The park would be reopened to protestors, but not to tents and sleeping bags, some time later today, he said, pending results of an 11:30 a.m. hearing on the restraining order against enforcement of new rules in the park issued by a New York judge at 8 a.m. A picture, above, taken at the park Tuesday morning, showed it swept clean and barricaded.
"There is no ambiguity in the law here. The First Amendment protect speech, it does not protect tents and sleeping bags," the mayor said.
Protestors were massing Tuesday morning in Foley Square, just north of City Hall, for a march against the decision to clear the park, and a new Twitter feed sprang up for Occupy Foley Square.
See also at The Atlantic Wire: