It's the Numbers, Stupid: How the Jobless Rate Will Predict the Job at the Top
If President Obama is going to win another term in 2012, the economy will have to improve significantly. Forecasters don't think it will happen.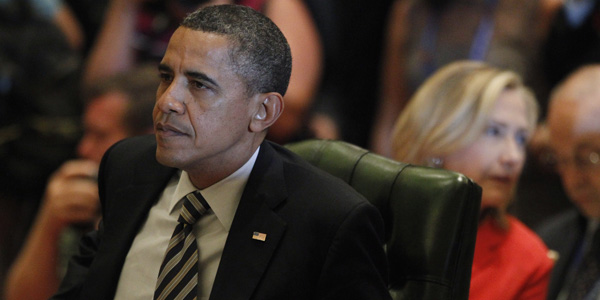 On Friday at 8:30 a.m., the Bureau of Labor Statistics will release the November unemployment figures. Like many other economic statistics and poll numbers, their impact on 2012 may now seem theoretical or hypothetical. But with the general election less than 12 months away, they are becoming more and more relevant.
---
MORE FROM NATIONAL JOURNAL:
---
Economists expect the November jobless rate to be around the same 9.0 percent rate it was in October, which was down one tick from 9.1 percent in the three previous months. Unemployment had been 8.9 percent in February and 8.8 percent in March. Otherwise, it has been 9.0 percent or higher since May of 2009, topping out at 10.1 percent in October 2009. Not so closely watched but more politically telling will be the U-6 rate. This is a measurement that adds the unemployment rate with the percentage of people working part-time but seeking full-time work, along with those who have given up looking all together. For October, the U-6 rate was 16.2 percent, down three-tenths of a point from 16.5 percent in September.
It's highly unlikely, indeed unrealistic, for Democrats to expect a replay of the 1981-84 Reagan economy, where unemployment peaked at 10.8 percent in November 1982. That coincided with an ugly midterm election. The jobless rate dropped to 8.5 percent by November 1983. It was on its way down to 7.4 percent in October 1984, the month before Reagan's reelection. It reached 7.2 percent in November. The Federal Reserve Board last week released the minutes of its Nov. 1-2 meeting, along with the forecasts for the Fed board members and presidents of the regional Federal Reserve banks. Among all board members and regional presidents, the range of jobless forecasts for the fourth quarter of next year (the time of the election) was 8.1 percent to 8.9 percent. The central tendency, which drops out the forecasts for the three most optimistic and the three most pessimistic, resulted in a range of 8.5 percent to 8.7 percent. If the most optimistic of the Fed officials' forecasts turn out to be prescient, it's easier to see how Obama gets reelected. It will still be a challenge but will be considerably more plausible than if the pessimists turn out to be right and the jobless rate is little better than the current 9.0 percent.
In terms of presidential job approval, Obama's Gallup weekly approval ratings have ranged between 40 percent and 45 percent since his 46 percent during the week of July 4-10. The last time his weekly Gallup approval measured 48 percent or more was May 30-June 5, when he reached 50 percent. That 48 percent to 50 percent could potentially be an important tipping point. Going into Election Day, Presidents George H.W. Bush and Jimmy Carter had Gallup approvals of 34 percent and 37 percent, respectively. Those above that range were Presidents Clinton (54 percent), Reagan (58 percent), Nixon (59 percent), and Eisenhower (68 percent). Most interestingly, the only other post-World War II elected incumbent seeking reelection, George W. Bush, had a final preelection Gallup approval of 48 percent. He won narrowly, besting Sen. John Kerry (D-Mass.) 51 percent to 48 percent in an election best remembered for exit polls on Election Day showing Kerry ahead. Obama scored weekly approvals of 50 percent or better in five weeks during the first half of this year and of 48 or 49 percent in seven more during that time, but none above 46 percent since the Fourth of July. While there is nothing necessarily magical about the percentages 48 or 49 or 50, it stands to reason that Obama's chances of getting reelected are a lot better if his approval rating is at that level or higher.
That's where those economic numbers and the poll standings come together. A presidential candidate who ran in part on hope had better have voters feeling some hope that the economy is getting better, or that their lives are either getting better or showing signs that they will get better soon. While most Americans don't necessarily feel that things are hopeless right now, they don't see many signs that should make them feel hopeful any time soon.
For Obama to have a realistic chance of winning, unemployment would need to drop by more than a couple of tenths of a percentage point. Economic (GDP) growth or consumer confidence would need to improve, and some of these metrics would need to move. This is entirely possible. The rising share nationally and in some key states of Latinos (who voted in 2008 for Obama, 67 percent to 31 percent) can be expected to help Democrats out some. But in lieu of some economic recovery, that kind of margin might not hold. All Democrats need to do is look back to 2004, when they only carried the Latino vote by nine points, 53 percent to 44 percent. Sure, scapegoating of the immigrant community by some Republicans has created some real scar tissue among Latino voters. But an 11.4 percent October unemployment rate among Hispanics can undo a lot of the excitement that existed in that community for Obama in 2008.
In short, while statistics are just numbers, they reflect a reality; they are a window into what is going on in voters' lives and how they look at things. In other words, these numbers matter.
Image credit: Jason Reed/Reuters