Is God Really Telling Rick Perry to Run for President?
The Texas governor began his presidential bid citing divine intervention, but maybe he was misinterpreting the signs from above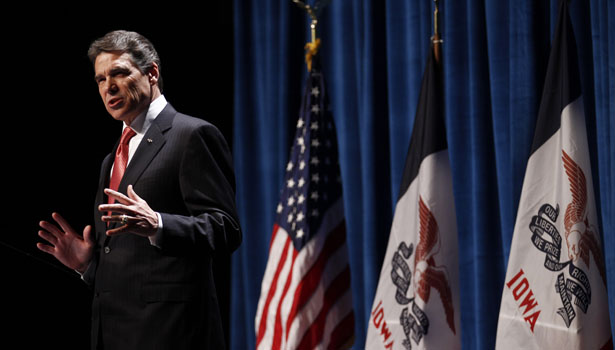 Rick Perry, who in the glare of television lights could not remember the third federal agency he wants to eliminate, has made no secret of his belief that God has signaled support for his White House bid. It would be interesting to know what he thinks caused this extraordinary lapse in memory, certain to serve as a warning to all future candidates. Perry has been more than willing to cite higher authority in his campaign for the nation's highest office. Said the Texas governor in mid-July: "I'm not ready to tell you that I'm ready to announce that I'm in ... but I'm getting more and more comfortable every day that this is what I've been called to do. This is what America needs."
Earlier in the year, at a May fundraiser in Longview, Texas, Perry told a group of businessmen and women, "At 27 years old, I knew that I had been called to the ministry. I've just always been really stunned by how big a pulpit I was gonna have. I still am. I truly believe with all my heart that God has put me in this place at this time to do his will."
If you accept the idea that individuals can interpret God's views toward their political ambitions, the available evidence suggests that Perry got it all wrong. From the word go, the signals have been of Biblical proportion -- but they are nearly all downright negative. Throughout the summer months, as Perry first considered and then decided to run for the White House, Texas turned into a hellhole. For example: this evocative map of the country produced by the U.S. Drought Monitor lends itself to the interpretation that a terrible punishment has been inflicted on the state Perry was brought up in and which he now governs.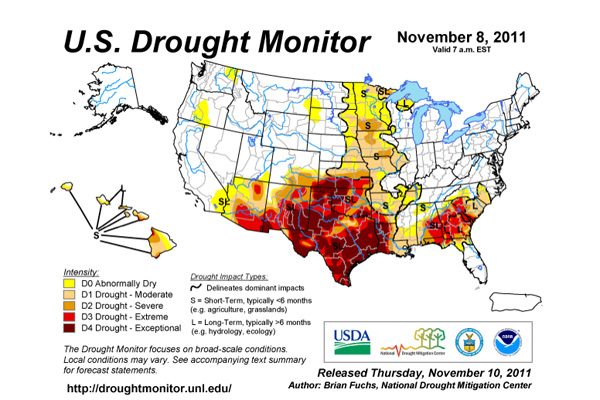 Perhaps Perry should read, among many Biblical passages, Deuteronomy 11:13-17 (italics added):
It shall come about, if you listen obediently to my commandments which I am commanding you today, to love the LORD your God and to serve Him with all your heart and all your soul, that He will give the rain for your land in its season, the early and late rain, that you may gather in your grain and your new wine and your oil. He will give grass in your fields for your cattle, and you will eat and be satisfied. Beware that your hearts are not deceived, and that you do not turn away and serve other gods and worship them. Or the anger of the LORD will be kindled against you, and He will shut up the heavens so that there will be no rain and the ground will not yield its fruit; and you will perish quickly from the good land which the LORD is giving you.
If the Drought Monitor map does not provoke some doubt in Perry, he could take a look at some of the findings of his own Texas Forest Service, which reported that, through Nov. 6 of this year, 26,148 fires covering 3.9 million acres have destroyed 5,065 homes, barns and other structures in the Lone Star State. The Forest Service web site has a number of dramatic pictures, including this one with the caption "Extreme fire activity turns the night sky bright orange":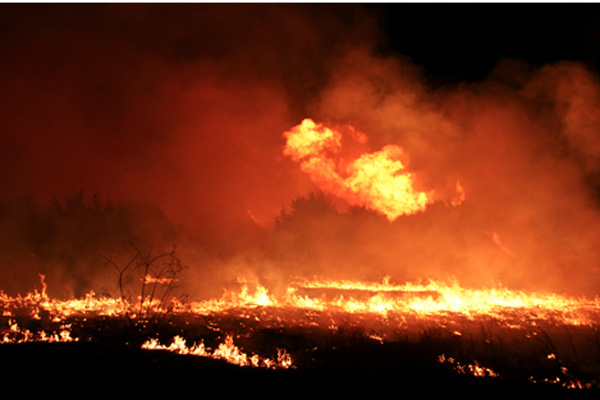 In trying to understand the significance of these fires, Perry could turn to 2 Thessalonians 1: "In flaming fire taking vengeance on them that know not God, and that obey not the gospel of our Lord Jesus Christ: Who shall be punished with everlasting destruction from the presence of the Lord, and from the glory of his power."
Perry has shown a willingness to see the hand of God in other earthly misfortunes. In May, for example, Perry told televangelist James Robinson: "I think we are going through those difficult economic times for a purpose to bring us back to those Biblical principles."
The drought and fires have special significance because they both continued and worsened after Perry issued highly public pleas to God to bring an end to his state's suffering -- pleas that have gone unheeded.
In April, Perry issued the following proclamation:
WHEREAS, the state of Texas is in the midst of an exceptional drought, with some parts of the state receiving no significant rainfall for almost three months, matching rainfall deficit records dating back to the 1930s; and

WHEREAS, a combination of higher than normal temperatures, low precipitation and low relative humidity has caused an extreme fire danger over most of the State, sparking more than 8,000 wildfires which have cost several lives, engulfed more than 1.8 million acres of land and destroyed almost 400 homes, causing me to issue an ongoing disaster declaration since December of last year; and

WHEREAS, these dire conditions have caused agricultural crops to fail, lake and reservoir levels to fall and cattle and livestock to struggle under intense stress, imposing a tremendous financial and emotional toll on our land and our people; and

WHEREAS, throughout our history, both as a state and as individuals, Texans have been strengthened, assured and lifted up through prayer; it seems right and fitting that the people of Texas should join together in prayer to humbly seek an end to this devastating drought and these dangerous wildfires;

Now, therefore, I, Rick Perry, Governor of Texas, under the authority vested in me by the Constitution and Statutes of the State of Texas, do hereby proclaim the three-day period from Friday, April 22, 2011, to Sunday, April 24, 2011, as Days of Prayer for Rain in the State of Texas.
Then on August 6, just seven days before Perry formally announced his presidential bid, he organized The Response," a day of fasting and prayer celebrated in Houston's Reliant Stadium. At the end of his address, Perry told the gathering:
As I finish I want to ask each of you to bow your head in prayer, or go to that position of prayer, and pray with us. Lord, you are the source of every good thing, you are our only hope. And we stand before you today in awe of your power, and in gratitude for your blessings, in humility for our sins. Father our heart breaks for America. We see discord at home. We see fear in the marketplace. We see angers in the halls of government. And as a nation we have forgotten who made us, who protects us, who blesses us, and for that we cry out for your forgiveness. We pray for our nation's leaders, Lord, for parents, for pastors, for the generals, for governors, that you would inspire them in these difficult times. Father we pray for our president, that you would impart your wisdom upon him, that you would guard his family. We pray for our military and the families who love them. Father especially, for those special operators who lost their life yesterday in defending our freedoms. You call us to repent, Lord, and this day is our response. We give it all to you. For thine is the kingdom and the power and the glory, forever. Amen. And amen.
If fire and drought are not enough to cause Perry to doubt the divinity of his mission, a third message is emerging.
Texas is one of four southern states suffering an invasion of Nylanderia pubens, a.k.a. 'biting, hairy, crazy ants' that, according to the Associated Press, invade homes, destroy electrical circuits, and disable industrial plants. "A camper's metal walls bulge from the pressure of ants nesting behind them. A circle of poison stops them for only a day, and then a fresh horde shows up, bringing babies. Stand in the yard, and in seconds ants cover your shoes," wrote the AP's Janet McConnaughey.
Nylanderia pubens ants have been found in 20 Texas counties. The residents of those communities may want to think twice before they ask their governor to pray for relief.
Image credits: Reuters; U.S. Drought Monitor; Texas Forest Service