Iowans Miffed at a Noncommittal Mitt Romney
The Republican front-runner's pointed refusal to play the Iowa game this time around is inspiring a hostile backlash from the state's politicos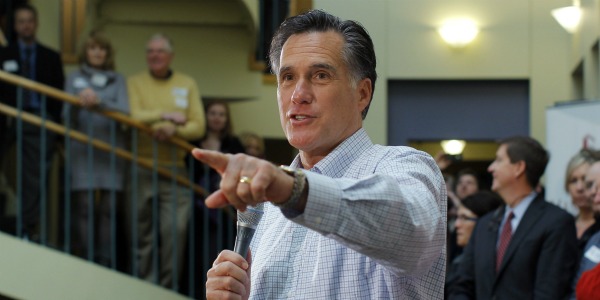 DES  MOINES -- On Saturday afternoon at a megachurch in Des Moines, the Republican presidential candidates will gather -- with a notable exception.
Newt Gingrich will be there, as will Herman Cain. So will Rick Perry, Michele Bachmann, Rick Santorum and Ron Paul, all seeking out that precious species, the Iowa conservative voter, in its native habitat.
But Mitt Romney will not. To add insult to injury, he will be spending the day in New Hampshire.
It is hardly the first time. Rather, it's only the latest in a series of disrespectful gestures the ostensible front-runner for the 2012 Republican nomination has directed at the Hawkeye State. And now, Iowa is striking back.
The state's top GOP figures have been ever more publicly and directly taking Romney to task for his absences. Chief among them: Gov. Terry Branstad, whose routine appeals for candidates to visit his state have lately taken on a downright hostile edge.
"Iowans don't like being ignored. They don't like being ignored," Branstad
said
at a
Politico
-sponsored forum earlier in the week, warning of dire consequences if the situation doesn't change. Romney's "advisers in Boston don't get it," he added. In an
interview
with the
Huffington Post
, Branstad was even more explicit: "Iowa voters are spoiled by attention, and if you have a candidate who does not take them seriously, I think they'll punish him," the five-term governor said.
The megachurch event is a forum hosted by the extreme social-conservative group the FAMiLY LEADER (the "i" is lowercase to symbolize the individual's submission before God), which
came under fire
earlier this year for trying to get candidates to sign a pledge that seemed, among other things, to romanticize slavery. The candidates also are expected to appear at Branstad's birthday party later the same day -- an event with a more mainstream cast. Romney would have been enthusiastically welcomed there, said Branstad's spokesman, Tim Albrecht.
"Governor Branstad is disappointed that Governor Romney is not taking advantage of the opportunity of speaking in front of 600 caucus-going Republicans who would be open to supporting him," Albrecht said.
Albrecht insisted it was not what it sort of looked like -- a 65-year-old man piqued over a refusal to attend his birthday party.
"This is about Iowa," said Albrecht, a longtime political operative and something of a pundit in his own right. "It's about the process and doing what's right in order to be successful on caucus night." Romney, he noted, is scheduled to be in Iowa on Wednesday. So presumably he knows the way.
To be sure, Romney's refusal to play the Iowa game is nothing new. He's been signaling for at least a year that he planned only a light footprint in the state, which spurned him so badly four years ago, handing him a humiliating 9-point loss to Mike Huckabee after Romney invested more than $10 million in wooing Iowa voters. It's hard to avoid romantic analogies here: Iowa dumped Romney, and now it wants him back, but he's learned his lesson and now he's playing hard to get.
But for most of the campaign so far, top Iowa politicos seemed to be holding out hope that Romney would come to his senses. Now, with less than seven weeks until the caucuses, denial seems to have given way to anger.
"Governor Branstad has enormous respect for Governor Romney, but he has decided it's time to hold his feet to the fire," Albrecht said.
Steve Scheffler, head of another Iowa social conservative group, the Iowa Faith and Freedom Coalition, also hosted six candidates -- but no Romney -- at a forum last month. "I think he's arrogant," Scheffler said bluntly in an interview.
"It's becoming irritating to a lot of people that he's not showing up to things," said Scheffler, who is also the state's Republican National Committeeman. There were 1,200 attendees at his event, he noted, all of them likely caucus-goers. Hundreds also attended the Republican Party of Iowa's Nov. 4 Reagan Dinner, and hundreds are expected at Saturday's two events.
Scheffler vowed that the conservatives of Iowa would not take Romney's disrespect lying down, and indeed, anger at Romney appears to be the cause that unites the two pillars of the Iowa GOP -- the business-oriented establishment, represented by Branstad, and the social-conservative grassroots, represented by the FAMiLY LEADER, whose head, Bob Vander Plaats, ran against Branstad in the 2010 gubernatorial primary.
"For him to deliberately shun these events is an insult to Iowans," Scheffler said. And despite early polls showing Romney near the top of the pack, Iowans, he vowed, will have their revenge.
"There is a really strong desire among people who don't want to see Romney win this state," he said. "Don't discount the possibility that people will coalesce around one or two other candidates just to ensure Mitt Romney doesn't win the state by default."
Image credit: Reuters/Brian Snyder