In Senate Races, Republicans Have the Upper Hand
The 2012 election is shaping up a lot like 2006 -- except this time the GOP is poised to oust Democratic incumbents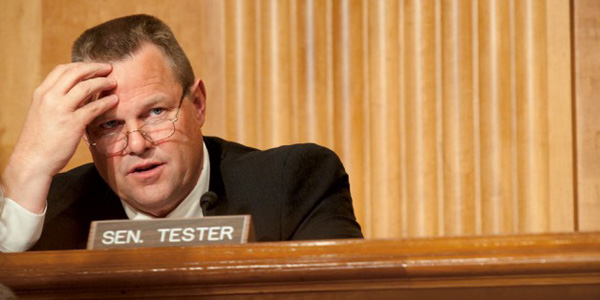 The political environment in 2006 was almost uniquely well-suited for the Democrats who kicked out incumbent Republicans from the Senate. Now, as they prepare reelection bids at a time when everyone in Washington is more unpopular than ever, those same Democrats are on the front line of the difficult battle to retain a slim majority.
---
MORE FROM NATIONAL JOURNAL:
2012 Could Hinge on Greece
5 Questions for Obama's G-20 Visit
The John Kerry Moment?
---
A year before the 2012 elections, Democrats face a rare situation as a majority that starts an election year as the underdog. Democratic hopes of keeping the Senate are dauntingly narrow. Thanks in part to the party's success in 2006, they are defending twice as many seats as Republicans; thanks to a lousy economy and a furious electorate, those seats are tougher to defend. And swing-state Democrats who carefully cultivate their independent brand have a virtual running mate they didn't anticipate--President Obama, who faces his own difficult reelection path.
Republicans, who need a net gain of four seats to win back control of the Senate, plan to spend millions linking vulnerable Democrats to Obama and his policies. In must-win states for Democrats--Montana, Missouri, Virginia, Ohio, and Florida--Obama's approval rating is low enough to drag down Democratic performance.
"President Obama and his policies are the issue," said National Republican Senatorial Committee Chairman John Cornyn of Texas. "Ultimately, what we're going to see is a referendum on the president and his policies. They can't run from the fact that they have been in charge, particularly in the Senate.
"We've seen this already manifest itself when it comes to the president traveling to various states, where Democratic officeholders and candidates are nowhere to be found, because they realize the negative association with the president and his policies. The fact of the matter is, they're not going to be able to escape it," Cornyn said.
Indeed, Democratic candidates face uncomfortable questions any time Obama stops in their home states. During a recent visit to Virginia, for example, Obama did not appear with former Gov. Tim Kaine--a Democratic candidate for Senate--but Republican Gov. Bob McDonnell was all too happy to join Obama at a veterans event. (Kaine, the former Democratic National Committee chairman, wasn't invited to the official event, but he's likely to appear with Obama when the president campaigns in the Old Dominion over the next year.) Pennsylvania Democratic Sen. Bob Casey's campaign made a public point of removing him from Obama's list of campaign bundlers. And Republicans made hay when Rep. Shelley Berkley, D-Nev., didn't bother changing her flight so that she could meet Obama in Las Vegas last month.
But the reality is that the photos of a Democratic candidate and Obama embracing probably exist somewhere. Sen. Claire McCaskill, D-Mo., a major Obama backer in 2008 who is fiercely protective of her independent image, recognizes that reality and is taking advantage of it: This week, she told a home-state newspaper she would ask the president to raise money for her reelection.
"I don't always agree with the president," McCaskill told the St. Louis Beacon. "He'll be the first to tell you that. But I support the president."
Separating oneself from a president is a touchy task for any incumbent. Getting distance on a particular issue can work--think West Virginia Democratic Sen. Joe Manchin's efforts in 2010 to make clear his opposition to cap-and-trade legislation. But do it too much and a candidate risks alienating the base--something that can matter in a close contest.
"You all hang together or you all hang separately," is how Democratic pollster Mark Mellman put it.
Republicans find themselves on fertile soil when tying Democrats to an unpopular president in their quest for just four seats. North Dakota, Missouri, Nebraska--where Sen. Ben Nelson has yet to commit to reelection--and Montana--where Sen. Jon Tester is running neck-and-neck with GOP Rep. Denny Rehberg--are likely to vote for the Republican presidential nominee. Democratic open seats in presidential battlegrounds like Wisconsin, Virginia, and New Mexico are inviting targets for the NRSC. And even in states in which Republicans will have a more difficult time knocking off Democrats, like Florida, Michigan, and Ohio, Obama won't cruise to victory, giving the GOP three more, albeit narrow, openings.
Democrats are confident they can hold the Senate. Sen. Chuck Schumer of New York said last month it would be "almost impossible" for Republicans to win enough seats to take over. "The facts on the ground are a little different than what's reflected in [Cornyn's] talking points," added Matt Canter, Democratic Senatorial Campaign Committee spokesman. "Each of these races will be a choice between a Democrat and a Republican." Democrats actually have a few opportunities. Republican Sens. Scott Brown of Massachusetts and Dean Heller of Nevada are each expecting difficult reelection bids. Brown's chief rival, Democrat Elizabeth Warren, raised $3.15 million in just a few weeks on the trail, and Heller's foe, Berkley, is running even with him in both public and private polling. (Democrats believe they have a shot in Arizona, too, but only if they get the right candidate.)
"If we're playing offense, like we are today, from now until Election Day, we're going to hold the Senate," the DSCC's Canter said.
But the theme is the same: Incumbents are in trouble. If the last three tumultuous election cycles made one thing clear, it's that incumbency has lost its advantage and that life is going to be difficult for anyone who holds office.
"People are very negative on Washington and of course anything that emanates from Washington, it seems like," Cornyn said. A year out, like in 2006, that's a good thing for the minority party.
Image credit: Liz Lynch/National Journal