Herman Cain's Scandal Hurts the GOP
The Republican primary has devolved into multi-way finger-pointing, as the harassment allegations have distracted from substantive debate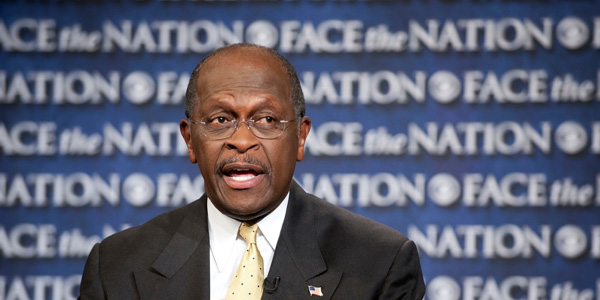 Herman Cain's problem could soon be the Republican Party's.
---
MORE FROM NATIONAL JOURNAL:
2012 Could Hinge on Greece
5 Questions for Obama's G-20 Visit
The John Kerry Moment?
---
The messy public relations crisis that erupted this week for the GOP's surprise front-runner on Wednesday turned into a raging vortex that threatened to drag several of Cain's most prominent rivals into the dangerous crosscurrents.
Instead of arguing over the relative merits of each others' tax plans, foreign policy, and views on immigration, leading contenders for the Republican presidential nomination have now launched an unseemly game of finger-pointing over who dropped the dime on Herman.
Cain, in an interview with Forbes magazine, offered his own theory, blaming a Perry aide. Perry, in an interview with the conservative blog, RedState.com, said he's "disappointed' with the "fingerpointing" and denied any involvement. Perry spokesman Ray Sullivan fired back with a denial, and another suspect: Mitt Romney. Cain's campaign manager, Mark Block, ratcheted up the rhetoric. In an interview with Fox News' Brett Baier, he called the Perry campaign "despicable" and challenged those who are anonymously accusing his boss of sexual harassment to "Face Mr. Cain."
The Cain campaign has not, however, said whether it will support an effort by Joel Bennett, an attorney for one of Cain's accusers, to lift the confidentiality agreement that is preventing his client from talking about the settlement the National Restaurant Association reached with her over sexual harassment allegations she leveled against Cain.
By the end of the evening, Cain's campaign reiterated its accusation against Perry in formal statement on letterhead. The statement noted that Perry has "consistently placed behind Herman Cain" in recent polls, and claimed that Cain had a "second consecutive record-breaking fundraising day" on Tuesday.
On CNN, another member of the GOP presidential field, Newt Gingrich weighed in. "If it turns out that a Republican presidnetial candidat deliberately went out and created this kind of a story about a fellow candidate that they would probably become a pariah among the rest of us and they better fire the people who did it," the former House speaker told the network's Erin Burnett.
Was it enough to brighten the day of President Obama, on his way to an economic summit about a Greek financial crisis that threatens to undo what little recovery he can claim for the economy and that he can do little to forestall?
"The dysfunction in the Republican Party is great in the short term for President Obama since it allows him to be the adult," said Democratic strategist Craig Varoga. The damage report:
The Associated Press reported that a third woman has surfaced alleging that Cain sexually harassed her.
CNN reported that Bennett, an attorney for one of Cain's accusers, was meeting on Wednesday night with the National Restaurant Association about a possible waiver of her confidentiality agreement.
Cain, who earlier this week professed to have only the haziest recollection of the charges against him, told Forbes magazine that he briefed GOP consultant Curt Anderson about them in 2003 when he was preparing to run for the Senate in Georgia. Anderson now works for the Perry camp.
Chris Wilson, a pollster who is working for an independent political action committee that backs Perry, told several news outlets that he personally witnessed Cain behaving inappropriately with female employees of the National Restaurant Association. But he denied being the source of the Politico story that first surfaced the allegations against Cain.
Ray Sullivan, a spokesman for Rick Perry, said in a statement that Mitt Romney's campaign was a more likely source of the story about the allegations against Cain--a charge Romney's camp emphatically denied. In a subsequent statement, Sullivan denounced Block's accusation as "false and irresponsible" and called the Cain camp's theory "a temporary distraction from Mr. Cain's mounting troubles."
In the state where the first votes of the 2012 presidential contest will be cast on Jan. 3, the Des Moines Register reported that Steve Deace, a local conservative radio host, has publicly expressed unease about Cain's behavior toward female employees of the radio station where he works.
At least one of Cain's rivals appears to be moving to exploit his public-relations crisis. "This is a year when we can't have any surprises with our candidates," Rep. Michele Bachmann (R-Minn.) told an audience of social conservatives while campaigning for votes in Iowa.
Image credit: Chris Usher/AP