Herman Cain's Anti-Muslim Prejudice Returns
The presidential candidate believes that more than half of American Muslims are extremists. Why? Because a trusted adviser told him so.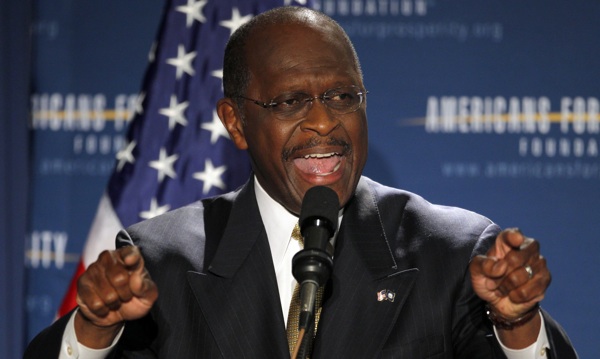 When Herman Cain proposed that he would impose a loyalty test on any Muslim before allowing him to serve in his administration, I called it a disqualifying remark for a presidential candidate. Cain has also spoken out against Muslim Americans who are building mosques, and not just at Ground Zero. You'd think, having played the race card after being accused of sexual harassment, that Cain would now be a bit more careful about revealing his own prejudices.
But nope.
After acknowledging, in a GQ interview, that "there are peaceful Muslims, and there are extremists," he went on to say this about Muslim Americans: "I have had one very well known Muslim voice say to me directly that a majority of Muslims share the extremist views." Here's the ensuing exchange:
Chris Heath: A majority?

Herman Cain: Yes, a majority.

Devin Gordon: Do you think he's right?

Herman Cain: Yes, because that's his community. That's his community. I can't tell you his name, but he is a very prominent voice in the Muslim community, and he said that.

Chris Heath: I just find that hard to believe.

Herman Cain: I find it hard to believe.

Chris Heath: But you're believing it?

Herman Cain: Yes, because of the respect that I have for this individual. Because when he told me this, he said he wouldn't want to be quoted or identified as having said that.

So there you go.

As promised in the headline, Herman Cain is prejudging Muslim Americans in the most transparently careless way possible: He is explicitly telling us that he finds it hard to believe a majority of them are extremists, but he believes it, not because he's seen evidence that persuaded him, but because some nameless adviser told him that it was true, and he trusts the guy.
That's why this exchange is a lot more than one more statement of prejudice.
This is Cain showing us the perils of electing someone who knows so little that he is entirely reliant on advisers and has the personality to take what they say on faith even when common sense tells him it's wrong. You get the feeling that a Cain presidency would be a lot like an episode of Who Wants to Be A Millionaire: As the questions get increasingly difficult, Cain would be frantically polling the nation and calling friends and otherwise outsourcing his answers.

Image credit: Reuters