Herman Cain Has a Powerful Enemy in Iowa
The harassment scandal highlights Cain's rift with Iowa's most dangerous conservative talker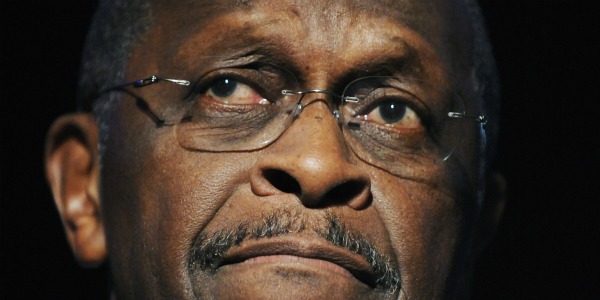 Herman Cain has messed with the wrong Iowan.
One strand of the multifaceted scandal unfolding around the Republican presidential candidate this week has been the charge that Cain treated female staffers of Des Moines-based radio host Steve Deace in a manner Deace found "awkward and inappropriate."
While Deace has refused to describe the interaction that prompted that characterization, he has also spent the week relentlessly pounding Cain on his nightly talk show -- and taking to task the conservatives who, at least at first, largely defended the former Godfather's Pizza CEO.
Deace says his major objections to Cain predated the scandal and are based on matters of substance. But there's no question that, for whatever reason, Cain has become the top target of Deace's fierce -- some would say demagogic -- ire.
And that could be a big problem for Cain. Because Deace isn't just any radio talker -- he can plausibly claim to be one of the most influential right-wing figures in the Hawkeye State. Four years ago, he played an instrumental role in Mitt Romney's loss, and Mike Huckabee's win, in the Iowa caucuses.
Now, Deace has his sights trained on Cain.
On Wednesday's show, Deace began by interviewing conservative filmmaker John Ziegler, who contended that in aiding Cain, the conservative media are really helping President Obama, who he said would beat Cain handily in a general election.
Deace played the skeptical straight man. He asked how the conservative media could prove Zielger wrong.
"Tell the truth about Herman Cain," Ziegler said. "Don't prop him up. Hold him to the same standard you would hold a liberal candidate to. We're not seeing that from the conservative media."
Deace jumped in: "You mean, for example, that if a Democrat said he wouldn't sign a pledge to defend marriage, that he had gave six different positions on abortion in two weeks, if he didn't know that China had nuclear weapons, things like that, that these same people would just trash this guy six ways from Sunday? Is that what you're saying?"
It was only the opening salvo in a two-hour show that frequently returned to the topic of Cain's many heresies against conservative doctrine. By the end of the show, Deace was declaring, "The fact this guy got this far knowing nothing, standing for nothing ... is more of an indictment against us than Mr. Cain.... We get the government we deserve, whether that's Barack Obama or the next Kool-Aid drinking cult of personality -- Herman Cain."
When Deace, whose last name rhymes with "base," decides a politician needs to be taken down, he doesn't hold back. As one of the promos for the show states: "Hunting RINOs into extinction -- you're listening to Steve Deace." (RINO stands for Republican In Name Only.)
Just ask Mitt Romney's 2008 crew. "Steve Deace every night on the air conducted a 3-hour campaign against Romney for Huckabee. He motivated a lot of people," recalled Doug Gross, one of Romney's top Iowa advisers at the time, who is neutral for 2012.
Deace, Gross said, was a "huge" thorn in the side of the Romney campaign. "If you take a look at Romney's results, you'll find he did well in Eastern Iowa and Western Iowa, but where WHO [Deace's station at the time] had the greatest reach, that's where Romney did the worst."
In fact, Romney won only one of the counties in WHO's broadcast area -- and that was by four votes.
A college dropout raised by a teenage mother, Deace, 38, became a hard-core evangelical Christian after an epiphany at a Promise Keepers rally in Kansas City in 2003. As he put it in an interview, "I ended up radically changed. I became a sort of Gen X version of Ned Flanders."
Now, he proudly calls himself a "Jesus freak." In a forthcoming book this fall, Deace, an apple-cheeked man who wears wire-rimmed glasses and a wicked grin, argues that the religious right establishment lost its way and sold out American evangelicals.
An Iowa native, Deace understands the state's politics well: He correctly predicted not just Michele Bachmann's win but the five top finishers, in order, of this year's Ames straw poll. That combination of deep local knowledge, hard-line conservatism and a knack for turning a phrase makes Deace irresistible not just to listeners but to members of the political media, this reporter included, who never tire of quoting him on the state of play in Iowa.
But 2012 finds Deace in a different position than 2008. Thanks in no small part to his drubbing from Deace last time, Romney isn't making a play for Iowa, robbing Deace of his favorite antagonist. Nor is Huckabee running, and Deace hasn't embraced another candidate in his stead.
Meanwhile, in early 2011, Deace left WHO, the state's biggest conservative talk station. A few months later he reemerged on the air in syndication, and while he now has national reach -- and a dream of becoming "the Christian Rush Limbaugh" -- his footprint in Iowa has shrunk as a result.
Nonetheless, he still has a following, said Gross, a onetime GOP nominee for governor who has himself been a frequent Deace target over the years. Deace's Iowa listeners are precisely the demographic that has been leaning toward Cain -- social conservatives looking for a Romney alternative. "If you match up Steve's constituency with Herman's constituency, there's a lot of overlap in that Venn diagram," Gross said.
In an interview Thursday, Deace still wouldn't say what he meant when he said Cain had made "inappropriate and awkward" comments to his female staffers. He first posted the allegation on his Facebook page on Monday, and he confirmed the impression to Politico after Cain's chief of staff alluded to it on a public panel on Tuesday.
But Deace has steadfastly refused to go into details, weathering the jabs from Cain fans who accuse him of being a liberal out to get their candidate. Anyone who knows Steve Deace does not mistake him for a liberal.
Deace points out that he wrote a column skewering Cain purely on the grounds of his grasp of issues days before the accusations of sexual harassment came out. That, he said, is why he opposes Cain, not a personal vendetta.
"I just don't view him as a palatable Republican nominee given what the country needs," Deace said. "He either is a fraud or he just has a very underdeveloped, immature worldview, which means if we put him in office we don't know what he'll do. And frankly I don't care which it is."
Deace sees himself as a pure crusader for the truth. "And that truth, by the way -- it's true truth, and it applies just as much to Republicans and conservatives as it does liberals and Democrats," he said on his show this week.
"So if you are one of those folks who turns (sic) into the rest of those conservative talk shows and pretends like Republicans don't have records, that they actually didn't vote for bank bailouts, that they never voted for Medicare prescription drugs -- that the baby's less dead if the Republican kills it and your money's less stolen if the Republican takes it -- if you're one of those listeners, you're going to really struggle with this radio program," he said.
Image credit: Reuters/Jonathan Ernst