Can We Believe the Polls About Herman Cain?
It appears the former Godfather's Pizza CEO is surviving his scandal, but the numbers show a few signs of trouble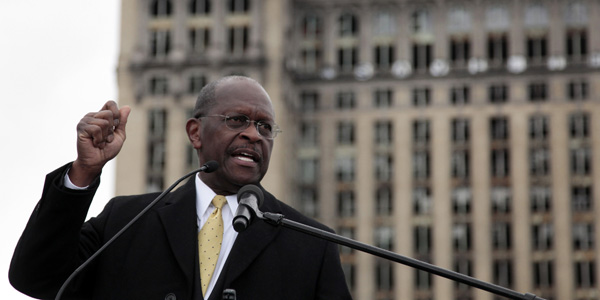 "They simply did not happen," Herman Cain said of the sexual harassment allegations against him at a press conference on Tuesday. Somehow, despite those allegations and the wide publicity they've gained, Cain is still in partial command of the 2012 GOP presidential primary.
In a series of polls taken since Politico first reported on two anonymous allegations on Oct. 30, most Republican respondents have said they think the charges are false:
An Oct. 31 - Nov. 3 ABC/Washington Post poll found that 55 percent of Republicans didn't think the allegations are a serious matter, while 39 percent did
A Nov. 2-5 NBC/Wall Street Journal poll found that 28 percent of Republicans said they had some "concern ... about voting for Herman Cain based on these allegations," while 54 percent said they had no concerns at all
A Nov. 2-6 USA Today/Gallup poll found that 53 percent of Republicans are inclined to believe the allegations are not true, while 35 percent are inclined to believe they are.
A Nov. 3-6 Pew Research Center poll found that 39 percent of Republicans thought the allegations were false, 29 percent thought they were true, and a whopping 32 percent said they didn't know or refused to answer
Cain has remained at the top of the race, sharing front-runner status with Mitt Romney: Three of the above polls showed the two candidates in a statistical tie for first place.
Should we believe that these polls indicate Cain is surviving his scandal? Not necessarily.
The polls have differed on where things are heading. In a still-developing scandal, respondents can say different things on different days of polling, and ABC found that Cain actually fared better as his scandal unfolded over its first week:
There was a slight difference in one result, in Cain's favor, as the week progressed. Monday night, 49 percent saw the issue as not serious, compared with 59 percent in interviews from Tuesday through Thursday.
But Pew found that, as time went on, more Republican respondents said they thought the allegations were true. From a Pew associate research director:
Among the 156 Reps and Rep-leaners interviewed Thurs and Fri, more said "False" than "True" by a 43% to 25% margin.

Among the 163 Reps and Rep-leaners interviewed Sat and Sun, the balance was about even (33% True, 35% False).
That's a very small sample size, but the trend held for the entire respondent pool, including Democrats and independents as well as Republicans:
On Thursday and Friday, Nov 3-4, we had 36% saying the charges were true, 27% false, and 38% DK/Refused

On Saturday and Sunday, Nov 5-6, we had 42% saying the charges were true, 22% false, and 36% DK/Refused
Perhaps more troubling for Cain is that poll respondents are viewing him less positively than before. Since well before he became a nationally known political figure, Cain's campaign has looked promising because his positivity ratings have been high. Few people knew who he was, but people liked him -- a lot.
Now, his numbers are starting to slip. NBC/Wall Street Journal found eight percent of Cain's "very positive" rating seemingly migrating to "somewhat positive," the former dropping from 28 percent to 20 percent (still the highest rating in the GOP field). USA Today/Gallup showed his "very favorable rating" score falling from 32 percent over the period of Oct. 17 - 30 to 28 percent over the period of Oct. 24 - Nov. 6. His "positive intensity rating" remained the highest in the GOP field, but fell from 29 to 25.
If Cain has been campaigning on personal likability, good feelings, and the force of his supporters' sentiments, these polls show the seeds of trouble.
Image credit: Rebecca Cook/Reuters