Cain Surviving Scandal? Half of Republicans Don't Think It's Serious
In the first reliable poll on his sexual-harassment allegations, the former CEO still led Mitt Romney in the GOP presidential primary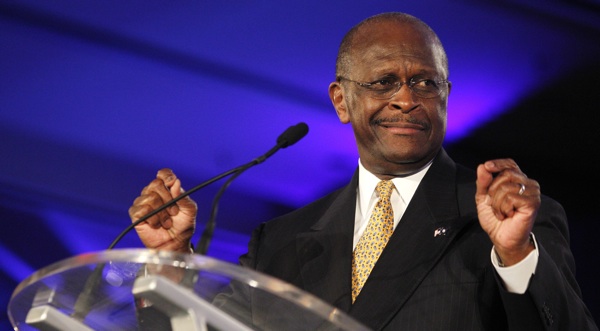 Herman Cain is surviving his sexual-harassment-allegation scandal -- so far.
ABC and The Washington Post have released the first major, reputable poll on Cain conducted after Politico broke its initial story about his scandal on Sunday night. Their main finding: Fewer than four in 10 Republican respondents said that the allegations against Cain are a serious matter.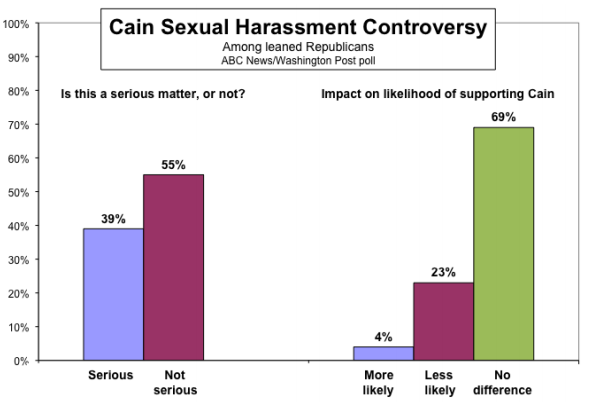 Here's the exact phrasing of the question, asked of 438 Republicans and Republican-leaning independents Monday through Thursday:
It's been reported that two female employees accused Cain of making unwanted sexual advances in the 1990s, and they received financial payments to leave the trade association he headed at the time. Cain says he was falsely accused and never sexually harassed anyone. Do you think this is a serious matter, or not serious?
Mitt Romney led Cain in the poll overall, 23 percent to 24 percent.
Without judging whether the GOP electorate is taking Cain's scandal too seriously, not seriously enough, or just right, here are some factors to consider when looking at the data:
This scandal has grown and developed. ABC began polling on Monday, the day after Politico's big story, when Cain's scandal was all over the news. But subsequent revelations by Politico and the Associated Press -- that a third woman had accused Cain and that Cain's campaign is blaming a Rick Perry aide -- may have influenced responses between Monday and Thursday, the last day of the survey.
People formed initial impressions of the Cain scandal quickly. Only six percent said they had no opinion, and while some pollsters push respondents more aggressively to take one side or another, such a low number seems to indicate that most people had heard about Cain's scandal and reacted to it.
Cain has rebuffed the allegations by accusing the news media and Perry's campaign of seeking to take him down. Even as more reporting comes to light that seems to undermine his case -- for instance, Politico's revelation Thursday night of "urgent discussions of the woman's accusations at top levels of the National Restaurant Association" -- we can't assume that Republican voters will think more negatively of him. They may think more negatively of Politico and Perry instead.
The question was about whether the accusations for a "serious matter," presumably in the context of Herman Cain and the presidential race. This poll does not indicate that half of Republicans don't think sexual-harassment allegations, writ large, are a serious thing.
Image credit: Reuters