Cain Blames Perry Consultant for His Harassment Scandal
At the center of the finger-pointing is Curt Anderson, a media consultant who recently joined the Texas governor's campaign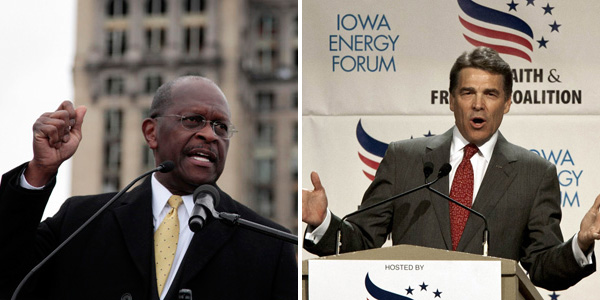 As the scandal surrounding Herman Cain's alleged sexual harassment problem takes on a life of its own, the former pizza titan is hitting back with accusations that the story was a hit job from Rick Perry's campaign.
In an interview with Forbes today, Cain said he is absolutely certain the story was leaked by Curt Anderson, a big-time Washington media consultant who recently joined the Perry campaign. Incidentally, Anderson also worked on Cain's failed 2004 Senate campaign.
According to Cain, Anderson was briefed on the sexual harassment claims in the leadup to the 2004 race, during a private meeting with the candidate. The charges were baseless, Cain said, but he thought Anderson, his chief strategist, should be prepared for any opposition research.
Anderson patently denied the accusation, and claims to have never heard about the allegations until Politico broke the story on Sunday.
"I have nothing but good things to say about Herman Cain," he told Forbes.
But Anderson may not be the only possible leak. Perry's newly hired pollster Tony Fabrizio also worked on Cain's Senate campaign, and may have also known about the accusations. And Perry backer Chris Wilson was a pollster for the National Restaurant Association at the time of the allegations, and claims to have witnessed the incidents.
Wilson denies that he leaked the story.
Image credit: Rebecca Cook/Reuters (Cain), Nati Harnik/AP (Perry)