Barney Frank Announces His Retirement From Congress
Capitol Hill will lose one if its most charismatic legislators, as the Massachusetts congressman calls it quits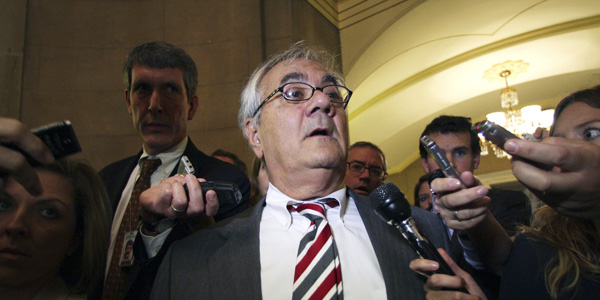 Updated 2:21 p.m.
Rep. Barney Frank, one of the most influential liberal lawmakers of his generation, announced that he is not seeking a 17th term in Congress next year. He said the changed lines of his suburban Boston district and an unexpectedly heated re-election campaign last year played roles in his decision.
---
MORE FROM NATIONAL JOURNAL:
---
"I'd been ambivalent about running, not because I don't think that the job is important but there are other things I would like to do in my life before my career is over," Frank said at a press conference in his hometown of Newton, Massachusetts Monday afternoon. "I was planning to run again and then the congressional redistricting came. And this decision was precipitated by congressional redistricting, not entirely caused by it."
The Massachusetts Democrat, first elected in 1980, serves as the ranking Democrat on the House Financial Services Committee. During a four-year stint as chairman of the panel, he helped shepherd the Dodd-Frank overhaul of the nation's financial regulations. The Almanac of American Politics described Frank as a "savvy legislator known for his keen intellect and sharp tongue."
Frank had indicated earlier this year he would seek reelection to his House seat, amid speculation that he would run for the Senate against Republican Scott Brown. He won a closer-than-expected re-election bid in 2010, taking 53 percent of the vote against Republican Sean Bielat, his lowest total since first winning his Newton- and Tauton-based district in 1980.
In redistricting, the new lines of the Massachusetts map kept his seat solidly Democratic but Frank lost several Democratic strongholds near his home in the process -- including the blue-collar town of New Bedford, where he spent time working on constituent services.
"The new district came out. ... There are 325 -- or 326,000 new people, many of whom I haven't represented, some of whom I haven't represented for 20 years, which is an eternity in our politics today ... in terms of the issues," Frank said. ""I've spent 20 years working on the fishing industry. None of the fishing areas will be in the new district I would be running in. I can't walk away from the fishing industry."
The new district would have given Obama 61 percent of the vote; under the old lines, Obama took 63 percent.
A long line of potential Democratic successors will be looking at running, including Newton mayor Setti Warren, who dropped out of the Senate race earlier this year, state Rep. James Vallee, and state Sens. Marc Pacheco, Mike Rodrigues and James Timilty. Among Republicans, Bielat hasn't ruled out running again. And state Rep. Jay Barrows and former Hopkinton selectman Brian Herr would also be possible GOP contenders.
Frank is the ninth House Democrat to retire outright, without seeking higher office. A total of 16 House Democrats aren't running for re-election next year.
Jim O'Sullivan contributed.
Image credit: Lauren Victoria Burke/AP