A Rick Perry Comeback? Unlikely
The Texas governor has deep pockets, but the early primary states afford little opportunity for him to revive his campaign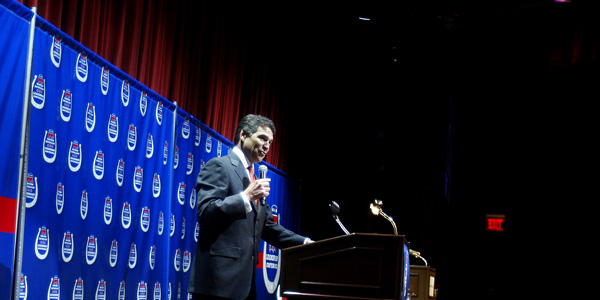 The conventional wisdom has coalesced around the view that Texas Gov. Rick Perry, with his sizable bankroll, is the obvious choice to emerge again as Romney's chief primary challenger. His campaign is now up with ads in New Hampshire and Iowa, reintroducing himself to the voters. And businessman Herman Cain, with the latest scandal, could find himself falling in the next round of polls.
---
MORE FROM NATIONAL JOURNAL:
The Taliban Is Winning the Propaganda War
Cain Campaign Investigating Possible Illegal Donations
The GOP Probably Won't Win a Senate Supermajority
---
But I'm not so sure that, even with the Texas governor's significant resources, his rebranding campaign will work. Perry's collapse since entering the race really has been remarkable. Unlike other recent candidates who entered the race with high expectations only to fall flat (Fred Thompson, Wesley Clark, Rudy Giuliani), Perry boasted executive experience, a largely conservative record, and success in some hotly-contested gubernatorial campaigns. On paper, he had that resume that translates to a presidential campaign. That's why many Republican voters initially viewed him so favorably, thinking he was the most electable conservative in the race.
But he was utterly unprepared to make the transition to the national stage, alienating the establishment with his weak debate performance and infuriating the base on illegal immigration. The Republican chattering class now is convinced he doesn't have what it takes to defeat a vulnerable President Obama, and the base is awfully skeptical that he's the principled conservative they once thought. That's hard to turn around with a bunch of 30-second ads.
The latest early state primary/caucus polling raises serious questions about Perry's ability to get the conservative base behind him. In the early-state CNN/Opinion Research polls last week (Iowa, Florida, South Carolina, New Hampshire), Perry hardly performed any better with self-identified conservatives than he did with Republican moderates and liberals. Romney outperforms him among Tea Partiers as well as non-Tea Partiers.
In a Southern state like South Carolina that should be one of his strongest, Perry is only polling at 11 percent, in fourth place, and not showing any particular strength among any demographic subgroup. That's a major red flag that suggests his problems run deep.
There have been plenty of deep-pocketed candidates who have failed to gain any traction because their message isn't resonating (including another Texan, former Sen. Phil Gramm, in 1996). Perry's offbeat performance in New Hampshire last Friday isn't likely to help matters any.
Message, not money, is what will give Perry momentum -- and there's little sign that his message is resonating. If the latest advertising blitz doesn't boost his standing in Iowa, it's hard to see him coming from behind to challenge Romney.
Image credit: Isaac Brekken/AP