Women Accused Herman Cain of Workplace Sexual Harassment in '90s
On Sunday, the candidate refused to comment on the allegations until he sees some evidence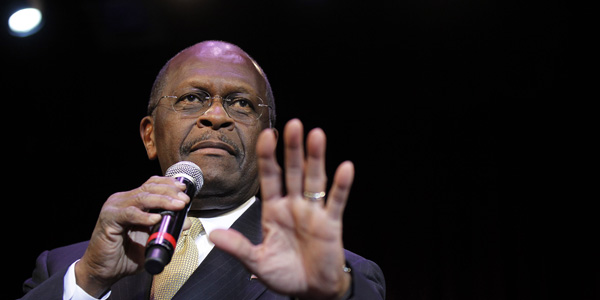 Two women working at the National Restaurant Association in the 1990s while Herman Cain was at the helm, left their jobs at the trade group after complaining of "sexually suggestive behavior" by the Republican presidential candidate, Politico reports.
---
MORE FROM NATIONAL JOURNAL:
Cain Hasn't Canceled
Clinton Played Pivotal Role in Libya Misison
U.S. Officials Were Warned of Abuse at Afghan Prisons
---
Multiple sources told Politico that the women received financial payments from the association and signed agreements not to discuss their departures.
Campaign spokesman J.D. Gordon said that Cain is "vaguely familiar" with the charges and has indicated to campaign officials that the restaurant group resolved the issue.
But Cain told Politico on Sunday that he had thousands of people working for him over the years and could not comment "until I see some facts or some concrete evidence."
His campaign issued a statement late Sunday evening portraying him as a victim of a smear campaign by "Inside the Beltway media." The statement, issued by Gordon, never directly denies the allegations but says the Politico report is based on "unsubstantiated personal attacks" and "rumors that never stood up to the facts."
"Since Washington establishment critics haven't had much luck in attacking Mr. Cain's ideas to fix a bad economy and create jobs, they are trying to attack him in any way they can," the statement continues.
The report and the Cain campaign's allegation of a Washington conspiracy against him comes on the eve of a week that the surging GOP contender planned to spend in the nation's capital. His schedule suggests he is hoping to win over some of the city's establishment. On Monday morning, he is scheduled to speak at the American Enterprise Institute, followed by a midday speech at the National Press Club. On Wednesday, Cain is planning to meet with Republican lawmakers on Capitol Hill.
Cain himself did not directly confront the allegations when confronted Sunday by Politico reporter Jonathan Martin outside the CBS Washington bureau, where Cain had just appeared on Face the Nation.  
"I'm not gonna comment about two people that you won't tell me who they are. That's like negotiating -- ," Cain said, abruptly stopping himself mid-sentence. "I am not gonna comment on that, because you know, I think that that is one of those kinds of things that, until you look --," he said, again stopping himself mid-sentence.  After being asked several times by Martin if he has ever been accused of sexual harassment Cain ended the exchange with a question of his own:  "Have you ever been accused of sexual harassment?"
Image credit: Isaac Brekken/AP