Why the Zanesville Animal Tragedy Could Haunt Ohio's Governor
Republican John Kasich allowed exotic-pet restrictions to expire when he came into office. He's already unpopular in the state.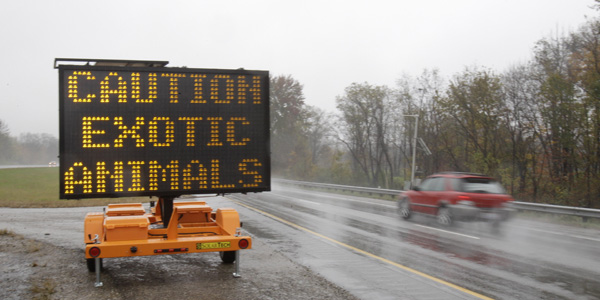 Ohio has some of the nation's loosest laws concerning exotic animals, and after the tragedy in Zanesville Wednesday, those laws are under even greater scrutiny from animal-rights activists and the press.
So is Gov. John Kasich, the Republican serving the first year of his first term, who declined to extend a policy that would have shut down Terry Thompson's farm.
Like a handful of other states, Ohio has essentially no laws concerning exotic animals, according to animal-rights groups. An Ohio resident can buy a lion or a tiger and run a small zoo with only a U.S. Department of Agriculture permit, a Humane Society official said. To get a USDA permit, citizens must prove they can provide adequate living space that meets the standards of the 1966 Animal Welfare Act. Many states impose some added restrictions; Ohio does not.
Animal-right activists have pressed Ohio's legislature to do something about this, and last year they won a concession: Days before leaving office, outgoing governor Ted Strickland (D) issued an executive order requiring owners to register exotic animals with the state. Despite a grandfather clause, the order prohibited anyone "convicted of an offense involving the abuse or neglect of any animal pursuant to any state, local, or federal law" from owning exotic animals in the state.
Thompson, who allegedly freed more than 50 animals before killing himself, was convicted of animal cruelty in 2005 according to The Columbus Dispatch. Under Strickland's order, his animals should have been seized and his reserve shut down.
Kasich declined to enforce the order and did not renew it when it expired after three months. The Columbus Dispatch reports:
Bill Damschroder, chief legal counsel for the Ohio Department of Natural Resources -- the agency that would have enforced the executive order -- said the Kasich administration determined that the executive order "exceeded the agency's authority."
Instead, Kasich convened a working group to consider exotic-animal legislation. Animal-rights activists, farm interests, and animal owners are represented on it.
"The hope was that the executive order was good for 90 days, ideally what we would have liked to see was that at the end of the 90 days there would have been meaningful legislation passed by the Ohio state legislature," said Lisa Wathne, a regulatory specialist for The Humane Society of the United States. So far, no legislation has moved.
Kasich remains unpopular in the state. After he registered a 35 percent approval rating in July, another Quinnipiac University poll found last month that 40 percent of Ohioans approved of Kasich while 49 percent disapproved.
Kasich has defended his decision to let Strickland's order expire and pledged to enact exotic-animal restrictions.
"This is unbelievable that this even existed, and what's hard for me to understand is why Ohio over time didn't deal with this, but we'll deal with it now," he said.
"What had been proposed frankly wasn't workable," Kasich told a local news station. "We're going to allow this working group to move faster and at the end of the day there will be legislation, something enforceable and solve this."
Adam Roberts, executive vice president of the animal-rights group Born Free USA, said he expects Kasich's working group to draft new restrictions soon. "I think they have to. It would be a huge black eye for the state if they didn't do something," Roberts said.
Image credit: Tony Dejak/AP