Why the Tea Party Failed to Produce a Credible Candidate
The movement got drunk on bombast, and now its favored 2012 contenders have fallen by the wayside, leaving Mitt Romney as a likely nominee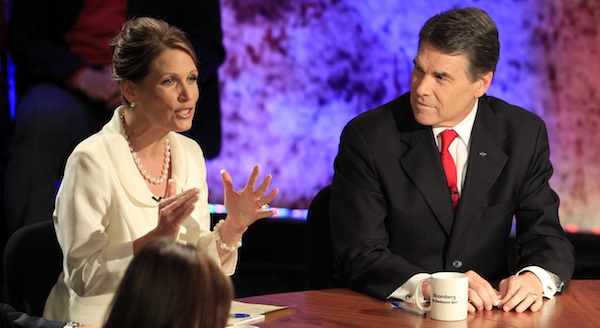 Writing on his eponymous website, David Frum reacted to Tuesday's GOP debate and Mitt Romney's front-runner status by asking, "Who produces the first big analysis: Why the Tea Party could not produce a credible presidential candidate?" I'll bite. Every political movement is a marriage of beliefs and rhetoric, combining convictions about where the country should be going and judgments about the best way to get there. Potential supporters assess the whole package.
The tea party's beliefs and convictions about where the country should be going, or the best version of them, are popular enough to produce a viable candidate, especially in a GOP primary. He or she would insist that the federal government spends too much, that bureaucrats shouldn't pick winners and losers in the economy, and that federalizing the health care system is unlikely to reduce overall costs.
A viable tea party agenda would also appeal to the libertarian wing of the party, which is suspicious of interventionism, ever-expanding military spending, and the criminalization of everything from marijuana to not having health insurance. And it would pointedly highlight the damage done by Democratic Party donors, especially Wall-Street beneficiaries of government largess, public employee unions, and trial lawyers, all of whom use their clout to capture taxpayer money.
So how to produce a candidate? A savvy tea party would assess politicians with resumes sufficient to become president, court and flatter known quantities like Mitch Daniels, who would fundraise well be acceptable to other constituencies in the Republican Party, and work to ensure that the longshots it elevated were principled guys like Gary Johnson, who've proven their ability to govern should they improbably catch fire in the course of campaigning around the nation.
But the actual tea party isn't savvy. It overestimates its clout within the GOP, fails to appreciate the many obstacles to winning a general election, let alone implementing its agenda, and is therefore careless and immature in choosing its champions. It elevates polarizing figures of questionable competence like Sarah Palin because doing so is cathartic. It backed Michele Bachmann despite her thin resume, erratic behavior in interviews, and the fact that she cares most about advancing a socially conservative agenda, not a small-government agenda. Its erstwhile favorite, Rick Perry, doesn't even subscribe to what ought to be a core tea party tenet: that the government shouldn't subsidize particular firms, picking winners and losers. Perry is a right-wing corporatist. And Herman Cain, the front-runner of the week? He has zero governing experience, acknowledges that he knows next to nothing about foreign policy, flip flops on matters of tremendous consequence, and touts a flawed economic plan, 9-9-9, that could never pass.
What do all these dubious champions have in common? Their red meat rhetoric and ability to antagonize liberals. What many tea partiers share is a belief that the best way to get where the country should be going is by being more ruthless than the Democrats; by fighting them zealously in the media, zinging them from the stump, and never, ever compromising with them in Congress or at the White House negotiating table. This is partly a reaction to George W. Bush's tenure, when tea partiers believe they were sold out by a big-spending, big-government RINO who kept compromising with Ted Kennedy. It is partly a reaction to the perception that they tried nominating media darling and "maverick" John McCain in 2008, and he lost. It is partly a reaction to the belief, stoked by talk radio, that every compromise with liberals is just one more ratchet in the direction of socialism, and that a confident, uncompromising conservative, in what they imagine to be the model of Ronald Reagan, is the solution to their woes.
Their approach has several flaws.
1) Bombast isn't a predictor of fealty to principle. It's just strategically uttered rhetoric, like everything else said by politicians, a profession where what is promised on the campaign trail always deviates from what is done in office. How odd that the most cynical voters are most taken by extravagant promises of loyalty.
2) When primary candidates compete to be the most bombastic and uncompromising in their rhetoric, the most successful quickly start to look unelectable, and the average Republican primary voter wants most of all to beat President Obama in 2012. Thus the winner of the "conservative primary" loses the Republican primary, in much the same way that Howard Dean lost to John Kerry during the 2004 cycle.
3) Some candidates who lack bombast, like Jon Huntsman or Daniels, would be more effective than any tea-party champion at advancing the movement's agenda, but they're overlooked because they fail to excite. It's absurd. Their records as successful governors are concrete demonstrations that they govern in a reliably conservative manner and can win converts. It is irrational to mistrust the rhetoric of politicians even while preferring someone like Cain, whose lack of experience forces supporters into the position of trusting his rhetoric without any basis for doing so save their gut feelings (which have done nothing but caused them to feel betrayed by pols in the past).
Why couldn't the tea party produce a viable candidate? Its partisans put fiery rhetoric ahead of substance, judged GOP politicians based on the extravagance of their promises more than what they'd actually accomplished, failed to demand of its champions some baseline level of competence, and insisted on pols who deliberately piss off outsiders rather than Reaganesque communicators intent on converting them. Tea partiers got drunk off the pleasure of hearing their prejudices echoed. They're now waking up to face their hangover. And his name is Mitt Romney.

Image credit: Reuters