Why Ron Paul Should Accept Gold Donations
It would make perfect sense for him to want them, but the Fed-bashing libertarian congressman won't take your bullion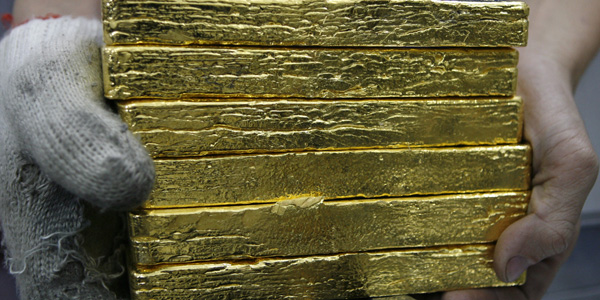 If there's one thing Ron Paul loves, it's liberty. But if there are two things he loves, they are liberty and gold. Paul wants to return America to the gold standard and end the Federal Reserve's control of our fiat money, about which he wrote an entire book, accusing the Fed of villainously generating economic bubbles that one day will swallow our economy whole.
What better way, then, to support the congressman than by donating gold to his campaign?
Unfortunately, Paul won't take it, even if you try. "We only accept Federal Reserve notes," Paul's political director, Jesse Benton, told me.
The irony!
There is no legal reason why Paul's campaign cannot accept gold donations. Under federal election regulations, anything other than legal tender counts as an "in-kind" contribution; if a liberal caterer provides food for a Democratic fundraiser, for instance, the campaign reports the commercial value of the service. As the regulations are written, gold would count in just the same way.
Even more frustrating for the gold-owner who likes Ron Paul, there would be a monetary advantage for the campaign in taking gold donations. When a donor makes an "in-kind" contribution to a federal campaign, he/she tells the campaign how much it's worth at its present market value. The contribution cannot exceed the $2,500 contribution limit for federal candidates. This year, the price of gold has risen significantly. If Paul received a brick of gold, then waited a month or two and sold it, he could probably get more than $2,500 for it.
In short, Paul could simultaneously skirt federal contribution limits and stick it to the Federal Reserve. His refusal to do so is truly baffling.
Image credit: Nguyen Huy Kham/Reuters