Why Is Nevada Giving Up Its Early Primary?
Under pressure for messing with New Hampshire's traditional place in the calendar, Nevada Republicans just want the saga to end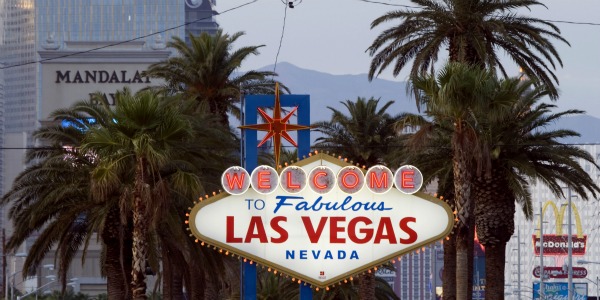 LAS VEGAS -- It's not easy to break into the hallowed pantheon of states that get the first crack at selecting the parties' presidential nominees.
Iowa and New Hampshire have owned their turf for decades. South Carolina broke in 30 years ago. Florida keeps trying to get in on the game.
Nevada had its first taste of life as an early state in 2008, and tens of thousands of party activists on both sides flocked to its January caucuses. The national parties gave the state their blessing to go early again. But now the state's Republicans are poised to give up their mid-January caucus date and settle in February instead.
It's not a done deal yet -- the party's 200-member central committee meets Saturday for what is likely to be a livelier-than-usual convocation. But top Nevada officials, under pressure from the Republican National Committee, are lining up behind the change and seem likely to prevail.
The reason: Party activists would rather get a chance to go to next year's national convention than deal with the current barrage of flak they're getting.
"Most of the [committee members] I've talked to feel it makes sense to go back to February," probably Feb. 4, said Robert List, the state's national committeeman and a former governor. "A lot of them want to be delegates to the national convention, and that's more likely if we don't get delegates taken away" as a penalty for breaking RNC rules. "And we all want to have the candidates coming back and campaigning."
Under RNC rules, Iowa, New Hampshire, South Carolina and Nevada were supposed to pick primary or caucus dates in February. All the other states couldn't hold contests until March. And any state that broke the rules would have half its national convention delegates taken away as punishment.
But that attempt to create an orderly process fell apart earlier this month when Florida set its primary for Jan. 31. South Carolina moved its primary up to Sat., Jan. 21, to stay first in the South. Nevada Republicans chose Jan. 14, also a Saturday, to get ahead of South Carolina, and the Iowa GOP this week picked Tues., Jan. 3.
That left New Hampshire, where Secretary of State Bill Gardner has the power to set the date of the first-in-the-nation primary. But Gardner was looking for a Tuesday after Iowa but at least seven days before the next contest, and there wasn't one left. He blamed Nevada for not leaving him enough space on the calendar.
All week, the RNC and candidates have been pushing Nevada behind the scenes to cave so that New Hampshire can have its way. Several candidates have threatened to boycott the Silver State if it doesn't move, and Mitt Romney, thought to be the favorite in both Nevada and New Hampshire, would dearly like the conflict resolved so he doesn't have to make the same choice.
RNC Chairman Reince Priebus, in Las Vegas for Tuesday's GOP debate and the accompanying Western Republican Leadership Conference, has been in talks to end the standoff with List, Nevada Gov. Brian Sandoval and Nevada Republican Chairwoman Amy Tarkanian.
Nevada Republicans mostly just seem to want the intense pressure they're under to go away. They blundered into this position without realizing the heat they'd take, and aren't very invested in standing on principle.
Sandoval, who a week ago was calling for Nevada to stick with Jan. 14, took a far more conciliatory tack Thursday, telling reporters here that the important thing is to end the interstate conflict.
"I don't think it's caving at all" to move the caucus to February, Sandoval said. "I don't call it caving when you're trying to work for the good of all." The important thing, he said, is for Nevada to be the first contest in the West.
It's not true, as some activists are grumbling, that the RNC has offered financial and other enticements in exchange for Nevada's capitulation, said state Assemblyman John Hambrick, a Las Vegas Republican who's a member of the state party committee that will vote on Saturday.
"There's no quid pro quo," he said. But List has assured Republicans the state will have the national party's "goodwill" for its accommodation, "and that could come back to our benefit down the road," Hambrick said.
List said he's convinced the candidates will still pay attention to Nevada if it is the fifth instead of the third contest. "We'd still be an early contest, and that could be a critical point in time [in the campaign] after the other four," he said. "It could be a tipping point."
Maybe so -- the primary isn't likely to be totally wrapped up after the first four states, but it could well be a foregone conclusion, as it was after John McCain won South Carolina in 2008. Few of the current candidates will have the financial resources to build a sophisticated campaign in more than a handful of states; most were already ceding Nevada to Romney for that reason.
The only remaining question is how harshly the RNC, whose toothlessness has helped precipitate all the rule-breaking, will come down on Florida and the other January states.
"Everyone's going to lose half their delegates for going early. That's not in question," said Saul Anuzis, a Michigan committeeman who is on the RNC's compliance committee. The committee was scheduled to meet this week but rescheduled its meeting for Monday in order to see what Nevada does. Its task is to assess who's in and out of compliance and make penalty recommendations to the Rules Committee.
As for other punishments, "We'll have to wait and see," Anuzis said. "Hopefully Nevada and New Hampshire will work it out among themselves so that nobody is going in December."
Image credit: Reuters/Steve Marcus