Who Is Herman Cain's Wife?
Described as a "very private person," the all-but-invisible wife of the candidate will soon speak to the media for the first time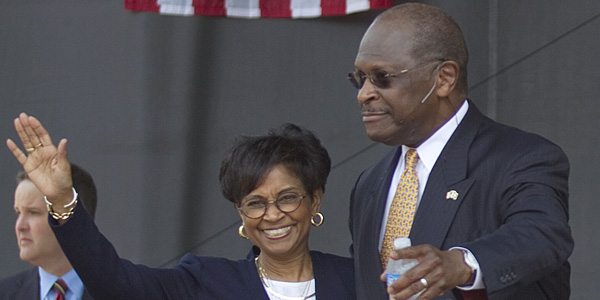 We will soon hear from Gloria Cain, the nearly invisible wife of the former Godfather's Pizza CEO now embroiled in accusations of sexual harassment.
After denying he'd ever harassed anyone in the 1990s in a Fox News interview on Monday, former Godfather's Pizza CEO Herman Cain was asked about his wife and family, who have not campaigned with him actively. Cain's response: His wife will soon give an exclusive interview, but he has intentionally shielded her and their two children from the limelight of the presidential campaign.
"You will meet my wife publicly in an exclusive interview that we are currently planning and anticipating, but you won't see my family out on the campaign trail on a day-to-day basis," Cain said.
"My wife represents that calm and tranquility that I look forward to seeing when I get home. She will be introduced in terms of some limited exposure, but it's not her style for her to be with me on every campaign stop because, number one, it's grueling, and I want her to continue to be the nucleus for that calm and tranquility that you want for your family," Cain said. "I'm an unconventional candidate, as you know, and we're running an unconventional campaign, and the involvement of my family is also going to be unconventional, although you will see them on a selected basis."
Indeed, we've heard next to nothing from or about Gloria Cain since the launch of her husband's presidential run in May. She had attended no campaign events since the opening rally in Atlanta where Herman Cain officially announced his candidacy, Politico reported on Oct. 14.
The two have been married 43 years, since June 1968, and have two adult children with children of their own. Herman and Gloria Cain dated while he was a sophomore at Morehouse and she a freshman at Morris Brown, Politico reported. They married a month after Gloria's college graduation.
Cain has shielded his wife from the beginning. The only mention of Gloria Cain in the candidate's online biography comes in its last sentence, "The paramount joys in his life are his wife, Gloria, his children and his grandchildren."
Before announcing his candidacy, the candidate told The Daily Caller's Alex Pappas in May that media should not expect his wife and family on the campaign trail. "Do not expect the traditional amount of campaign exposure for my wife," Cain told Pappas. "She's not going to do that."
Cain elaborated, mentioning an implanted heart device that could make the rigorous campaign lifestyle even more daunting:
Though she has worked as a teacher and a librarian, Cain says his wife -- who sings in the choir at Antioch Baptist Church North in Atlanta -- has been a homemaker for most of their marriage.

"Throughout our life together, she has been primarily the person who has taken care of the home because I moved around a lot," he said.

Cain -- who is expected to formally announce his bid for president Saturday at an Atlanta rally -- said she'll appear "selectively with me at certain times as it relates to this campaign." He also said she has an implanted heart device, which cuts down on the stamina she may have to stump across the country.
According to Politico, a spokesman for the Cains' church described Gloria as "a very private person" who has remained active in the church since the launch of her husband's campaign.
Unfortunately, her first exposure to the campaign limelight will almost certainly involve questions about her husband's fidelity and character. The Cain campaign has not yet responded to an email inquiring about the exclusive interview Gloria Cain will give.
Image credit: Jonathan Ernst/Reuters