When Herman Cain Endorsed Mitt Romney for President
Should the GOP race come down to the two former CEOs, expect Cain's column from the 2008 election cycle to be invoked endlessly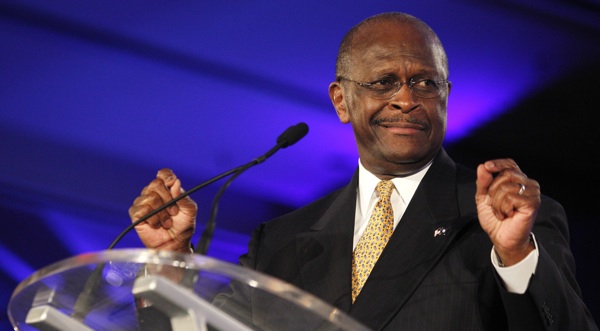 In a February 2008, Herman Cain used his syndicated column to endorse a candidate in the Republican primary.
His choice?
The former Massachusetts governor struck Cain as best equipped to "focus on the right problems" and make the "tough decisions" to solve them: "Romney has done that as a chief executive officer in business, as a governor and as head of the U.S. Olympics," Cain wrote, adding the noteworthy judgment that "he has done so while balancing political consequences, but not compromising fundamental principles of the founding of this country or free-market economics." Romneycare apparently wasn't seen as a deal-breaker or a compromise of core principles circa 2008.
There's more:
Anyone who wishes to find a reason not to vote for Romney can easily find one. But the reasons to vote for him are far more compelling. He has successfully managed a real business with other people's money and some of his own. He has balanced budgets. He successfully led a turnaround situation with the Olympics. And he has spent more of his career outside government than inside.

And compared to his rivals, "Romney's history is more indicative of the substance needed to make major progress on critical issues, and not just to make more politically palatable incremental changes in Washington D.C.," Cain wrote, before hedging just a bit by adding, "... We are not favored with an obvious great leader in the 2008 presidential race, as is apparent from the primary process...But Mitt Romney's leadership credentials offer the best hope of a leader with substance, and the best hope for a good president who could turn out to be great."
It's a tough column to have written if you're running as the alternative to Romney.
Image credit: Reuters