What's Next for Sarah Palin?
Now that she's not running for president, it's boosting the tea party, mentoring conservative women and taking potshots from the sidelines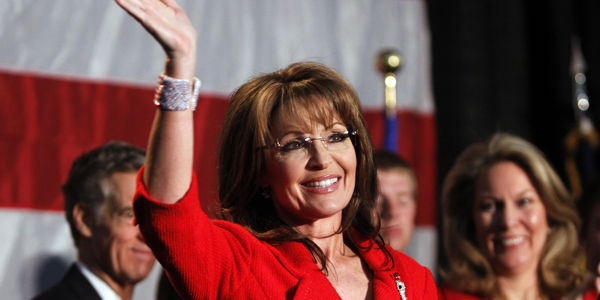 In retrospect, it's clear that what Sarah Palin has really been running for over the past couple of years wasn't the GOP presidential nomination. It was Queen of the Tea Party.
She spent the 2010 campaign cycle touring the country with the Tea Party Express. She was the subject of a hagiographic movie, "The Undefeated," that cast her in that royal mother role. With idiosyncratic aplomb, she's continued to bop in and out of the spotlight with her bus tour, Facebook posts and Fox News Channel appearances.
All the while, she's continued to hone her critique of the entire political establishment -- drifting ever farther from the Republican Party line and championing the tea party movement's crusade for ideological purity.
During the debt-ceiling debate, she implicitly warned GOP congressmen not to go squishy and compromise, in a Facebook note that carried an ominous postscript: "P.S. Everyone I talk to still believes in contested primaries."
Speaking in Iowa over Labor Day weekend, she rolled out her attack on "crony capitalism," lumping both parties into a sinister "permanent political class." Days later in New Hampshire, she called for tea party unity, calling the movement "not about any one candidate."
"Real hope comes from realizing that we the people can make the difference. And you don't need a title to make a difference," she said in Iowa.
She struck a similar note in her statement Wednesday: "I believe that at this time I can be more effective in a decisive role to help elect other true public servants to office -- from the nation's governors to Congressional seats and the Presidency," Palin wrote in her email to supporters.
Appearing on Greta Van Susteren's Fox News show last month, Palin said she was enjoying life on the sidelines, where her celebrity gives her some ability to set the agenda without becoming the target of attacks from rival campaigns.
"I'm getting kind of a kick out of ... getting out there, giving a speech, making some statements about things that must be discussed and then the very next day watching some of the candidates get up there and discuss what it was that we just talked about," she said, adding, "That perhaps is my role right now."
In the same interview, she took a hard line against Texas Gov. Rick Perry, a onetime close ally. She pointed to Perry's executive order mandating that preteen girls get an STD vaccine -- after a top Perry aide went to work for the vaccine's manufacturer -- as a prime example of the "crony capitalism" she'd been warning about.
Palin singled out Minnesota Rep. Michele Bachmann for praise for having brought up the issue in a GOP presidential primary debate. It wasn't the first time she'd praised Bachmann, whom she also lauded for sticking to her guns on the debt-ceiling fight.
That's another potential role for Palin going forward: den mother of the Mama Grizzlies. Earlier this week, Arizona Gov. Jan Brewer revealed that Palin had agreed to write the foreword to her book, "Scorpions for Breakfast: My Fight Against Special Interests, Liberal Media and Cynical Politicos to Secure America's Border." Last year, Palin's team released a slick video heralding a "mom awakening." Palin, who describes herself as a feminist, clearly hopes to mentor a new generation of feisty conservative women.
So Palin will stay on the sidelines, taking potshots and starting fights, infuriating the left and the establishment and rallying her ever-dwindling hard core of devoted fans. Will she endorse a 2012 candidate? Bachmann, the contender with whom she's shown the most sympathy, has faded to near-insignificance in the polls. On conservative radio host Mark Levin's show, where Palin broke the news Wednesday, she said only, "I look forward to supporting our nominee."
Another question is whether she'll continue to be employed by Fox News, which is paying her handsomely for her occasional contributions. She didn't choose the network as the venue for her not-running announcement, a potentially telling snub.
In an interview with the Associated Press published Wednesday, Fox News Chairman Roger Ailes said he hired Palin "because she was hot and got ratings." But Ailes also told Newsweek recently that the network was engaged in a "course correction" away from the tea party, Glenn Beck and the hard-right line. And Palin has feuded with some of her fellow Fox personalities lately.
And then there's the question of what her supporters will do. Though polls showed they constituted only a sliver of the electorate, some of them maintained a single-minded faith in her, gathering in online forums and parsing her every word for marching orders. In Iowa, a California lawyer has spent nearly a year organizing for an expected Palin run as his full-time job.
The finality of Palin's statement Wednesday made it difficult for those supporters to maintain the fantasy that she might still get in the race, perhaps as a third-party candidate. On the Palin-boosting website Conservatives4Palin, the mood was mournful.
"My heart is heavy," one commenter wrote. "I am feeling a bit hopeless right now for our country. However, I do understand her decision. Family first. No matter what, I stand with Sarah Palin."
Image credit: AP Photo: Ed Andrieski