What the Early-State Polls Tell Us About the GOP Presidential Race
Eight takeaways from the latest surveys, which show Mitt Romney squaring off against Herman Cain and the tea party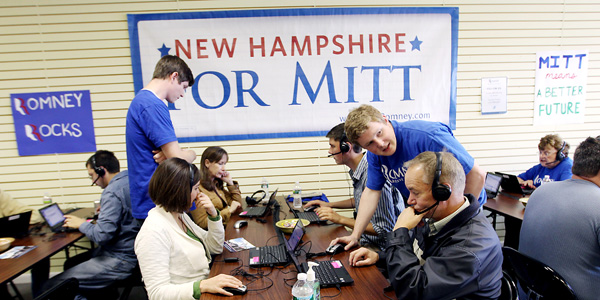 1. The TIME/CNN/ORC polls released Wednesday afternoon from the first four states on the 2012 Republican calendar paint a consistent picture of the Republican race. These polls show that the GOP race is being shaped by parallel but disparate movements: a more moderate and secular wing of the party is coalescing around Mitt Romney, while a more economically and culturally conservative wing continues to resist him, but remains more divided than the roughly other half of the party. That pattern is sufficient to place Romney in the lead comfortably in New Hampshire and Florida, and within the margin of error in Iowa and South Carolina, according to the surveys.
---
MORE FROM NATIONAL JOURNAL:
Sneak Preview of Fall Attractions? Romney Visits NoVa
Mitt's Power Breakfast
Housing Commission Launches With Goal for 2013
---
2. One consistent dividing line in all four polls is attitudes toward the tea party. In each of the states except New Hampshire, Romney polls higher among voters who are neutral or opposed to the tea party than those who say they support it. Herman Cain, in mirror image, polls substantially better among tea party supporters in all four states.
3. Cain leads Romney among tea party supporters in South Carolina (29-23) and Iowa (29-17) and ties him in Florida (26-26); only in New Hampshire does Romney lead Cain among tea party supporters (43-23). But Romney maintains the overall advantage in those states in large part because he has established bigger leads among the non-tea party wing of the party: among voters neutral or opposed to the tea party, Romney leads Cain 35-13 in Florida; 30-16 in Iowa; 39-8 in New Hampshire and 27-17 in South Carolina. In each case that's a larger advantage than Cain's edge among the tea party backers.
4. Part of Cain's problem is that Newt Gingrich attracts double-digit support from tea party voters in each state except New Hampshire, while Rick Perry reaches double digits among them in Florida and South Carolina. Apart from Cain, Romney's most consistent competitor for non-tea party voters is Ron Paul.
5. The same patterns hold when looking at voters' religious beliefs. Continuing the dynamic from the 2008 race, Romney consistently faces more difficulty among evangelical Christians than other voters. In Florida, Iowa and South Carolina the new polls show Romney running much more strongly among voters who do not identify as born-again Christians than those who do. (In New Hampshire, the sample did not provide enough born-again Christians to measure). In each of the three states with enough born-again voters to measure, Romney drew the same 19 percent of their support, almost identical to the 20 percent he won among self-identified evangelical in the cumulative 2008 GOP primary exit poll analyzed by ABC News.
Once again, Cain leads Romney among born-again Christians in Florida, Iowa and South Carolina, though generally by modest margins. Romney in turn holds bigger leads in all four states over Cain among the voters who do not consider themselves born again: he leads among those voters by 34-13 in Florida; 29-19 in Iowa, 40-14 in New Hampshire and 34-16 in South Carolina. Still, Romney's difficulties with born-again Christians explain why his overall advantage in Iowa and South Carolina (three and two percentage points respectively) is so much narrower than in the surveys in New Hampshire and Florida.
6. Cain appears to be scrambling a third potential fault line in the GOP race, the polls suggest. Continuing another pattern from 2008, Romney in each state attracts between four or five percentage points more support among voters with at least a four year degree than those without one. But Cain also runs better among voters with a college degree than those without one-with the gap being greater in most states than the difference for Romney. The result is that Romney, who struggled somewhat with non-college voters in 2008, leads Cain among voters without a college education in each of the four states, while trailing him among college-educated voters in South Carolina and running only about even with him among them in Iowa.
7. Texas Gov. Rick Perry appears to be attempting to restart his campaign almost from scratch. He attracts no more than 11 percent overall in any of the four states; even more revealing is his poor showing among both evangelical Christians and tea party supporters-voters who should represent his base. Perry now is drawing only 15 percent of tea party supporters in South Carolina, 11 percent in Florida, and single digits in Iowa and New Hampshire. In each state except South Carolina, Perry trails not only Cain and Romney among tea party supporters, but also Gingrich.
He is showing somewhat more life among evangelical Christians, attracting 14 percent in Florida and 16 percent in South Carolina. But he dropped to just nine percent among those voters in Iowa, the survey found. Unless he can improve those numbers, and find a way to win Iowa, he may find it impossible to truly resuscitate his campaign in any other state.
8. All of these trends may change when the candidates launch full-scale television advertising campaigns in the early states. And once voters actually start casting ballots, the results of each contest can rapidly scramble the patterns of support in those that follow it on the calendar. But for now these polls show that while the overlapping circle of tea party activists and evangelical Christians remain dubious of Romney, they do not yet appear to be coalescing in a way that could deny him the nomination.
Image credit: Cheryl Senter/AP