There Is No GOP Establishment
The Republican Party remains factionalized, with no oligarchy of elders to select a challenger for Barack Obama in 2012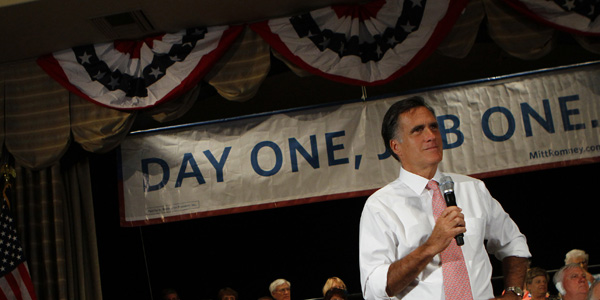 Mitt Romney is the front-runner for the Republican presidential nomination. But don't buy the talk that he has wrapped up the GOP establishment and is somehow the party's inevitable nominee. That's the impression the former Massachusetts governor wants to give, but his party is healing fractures after a decade of internal tumult.
At the moment, there is no such thing as the Republican establishment.
---
MORE FROM NATIONAL JOURNAL:
Obama, DNC Raised $70 Million Since July
Dems Diversify Recruiting Class
Perry Blames 'Media Elites'
---
Instead, there are factions that are legs of the Republican stool. There are the money men, based largely around New York but with significant enclaves in every major metropolitan area in the country. There are the intellectual elite, based in Washington. And there are the actual activists themselves, who knock on doors and organize grassroots campaign events.
The three groups remain deeply divided over the 2012 nominating contest. For now, that works to Romney's benefit.
The Republican Party's deep-pocketed moneymen have yet to settle on a candidate, but Romney has made the most inroads. While an analysis of the 548 mega-donors who were top fundraisers for George W. Bush--the so-called Pioneers and Rangers--shows the vast majority have not signed up with any campaign, Romney has won backing from the largest number of Pioneers (48 of 327) and Rangers (33 of 327), according to campaign finance reports filed in July.
Romney's business background holds appeal for a group that's more concerned about tax and regulation policy than about social issues. And winning support from New Jersey Gov. Chris Christie will surely help with these elites.
Many of the Wall Street financiers who urged Christie to run will take his advice and back Romney. Last week, before Christie's endorsement, former Republican National Committee chairman Jim Nicholson and lobbyist Rick Hohlt said they would support the former governor. So did James Lee Jr., the vice chairman of JPMorgan Chase, and John Catsimatidis, the supermarket magnate; both men had been urging Christie to run.
Romney's team expects to win over more Christie fans who have their own fundraising networks, cementing their lead among the Republican Party's biggest donors.
But Romney still has skeptics among the Republican intellectual elite. That leg of the stool--Washington think-tank experts, magazines like The Weekly Standard, and a host of interest groups--is more ideological than its New York counterparts.
The party's deep thinkers have been searching, so far in vain, for a candidate to call their own. They were the driving force behind Mitch Daniels' brief moment. They were the loudest to call on Rep. Paul Ryan of Wisconsin to run. And they led the repeated Christie boomlets. To them, Romney is too willing to shed fidelity to their principles if the moment so dictates.
The intellectual elite have not settled on a contender. They thought they found their candidate in Rick Perry, someone who could tout an economic record that would contrast well with President Obama's. But the Texas governor's weak performance in debates and his verbal gaffes have raised questions about his readiness, and the intellectual elite are searching again for a contender. They are unlikely to embrace Romney until he actually wins the nomination, but they have yet to find the right candidate to stop him.
Then there are the actual voters who will attend caucuses in Iowa and cast ballots in New Hampshire and South Carolina. Like donors, they are split; Romney leads by a tiny margin in Iowa, where no candidate gets more than about a quarter of the vote. He has a bigger margin in New Hampshire, his virtual home state, where an NBC News/Marist poll released this week shows him leading with 45 percent, compared with 13 percent for Perry and businessman Herman Cain.
Perry led the most recent poll conducted in South Carolina, a Winthrop University survey from the middle of September, but no recent data has been publicly released.
In short, with less than three months to go before hard-core Republicans in Iowa attend their caucuses and New Hampshire voters cast their ballots, those activists haven't settled on anything like a front-runner.
The malleable terrain is a problem for Romney. Opinions about Romney within the Republican primary electorate are more firm than opinions about anyone else. That means Romney has the highest floor, and the lowest ceiling: He starts with the best foundation, but he has the least room to grow.
The biggest threat to Mitt Romney's presidential campaign has always been a coalition of the many Republicans who don't want him to win the nomination. Fortunately for Romney, the forces arrayed against him remain as fragmented as ever, divided between other contenders and nowhere close to uniting behind a single anti-Romney.
After nearly a decade of uncertainty and discomfort with Bush's tenure, which ended in two straight cycles of electoral defeat, the GOP is still working out its new identity. The disparate parts of the Republican establishment are battling for supremacy of the type Beltway Republicans once enjoyed.
Until that battle works itself out, neither Romney nor anyone else will be able to claim the mantle of the establishment pick. In fact, at a moment when the activists outside the Beltway seem determined to clean house, that's a mantle to which neither Romney nor any of his rivals want to lay claim.
Image credit: Joshua Lott/Reuters