The Republican Candidates' Suicide Mission
As birtherism resurfaces in the GOP presidential primary, Haley Barbour is the latest to fret the party's damaging its image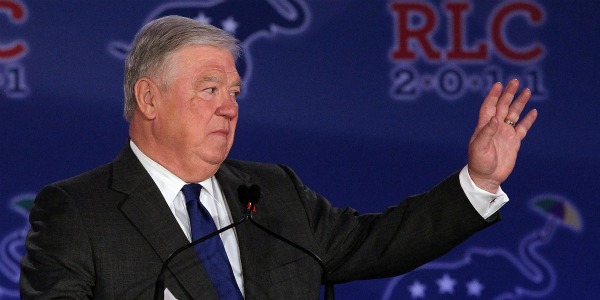 Top Republicans are increasingly worried the party is shooting itself in the foot.
The latest is Mississippi Gov. Haley Barbour, who told reporters Tuesday that it's "not good for the Republicans" when presidential candidates bring up issues like President Obama's birth certificate.
"Look, if this election is about Barack Obama's policies and the results of those policies, Barack Obama's going to lose," Barbour said. "Any other issue that gets injected into the campaign is not good for the Republicans."
Barbour was responding to a question about Texas Gov. Rick Perry's decision to stoke the issue of Obama's birthplace. In an interview published over the weekend, Perry said he didn't "have a definitive answer" about where the president's was really born, and on Tuesday he told The New York Times he got a kick out of keeping the issue alive: "It's fun to poke him a little bit."
But Barbour, answering questions after speaking at the National Press Club, said the candidates are hurting their chances if they veer into sideshow territory.
"Republicans should want this election to be what American presidential elections have always been: a referendum on the incumbent's record," he said. "Barack Obama cannot win a second term running on his record -- zero chance. So for anybody to talk about anything else is off subject."
Barbour joins a growing chorus of GOP voices who believe the campaign's increasingly personal tone and focus on hot-button wedge issues could be damaging the party's image.
At last week's Western Republican Leadership Conference in Las Vegas, pollster Frank Luntz tore into the candidates for the tone of the previous night's debate, which featured a newly combative Perry accusing Mitt Romney of "hypocrisy" on immigration.
"If you Republicans insist on tearing yourselves down, you have no one to blame but yourselves if you lose," he said, adding, "What happened last night was horrific."
Newt Gingrich has made calling for unity and attacking the moderators his hobbyhorse in the debates. It's mostly a cheap, crowd-pleasing ploy aimed at exploiting voters' distaste for the mainstream media -- the point of a debate, after all, is to allow candidates to articulate their differences.
But Gingrich's notes of caution are also ones more and more Republican insiders are starting to express.
"I'd like to see us getting away from the bickering. I think the bickering does not help the Republican Party," Gingrich told the Las Vegas conference last week. He compared the petty back-and-forth to "some cafeteria in the seventh grade."
"It's stupid, and it hurts the Republican Party," he said. "If what voters get is the idea of a bickering, tiny party, it weakens us in our great objective, which is to defeat Obama so decisively that we sweep the Senate and the House and we change the country back in the right direction."
Barbour, a former chairman of the Republican National Committee, seriously contemplated running for president himself earlier this year, but ultimately decided against it. Had he run, he would have been dogged by distractions of his own, particularly a trail of controversial statements about race.
Barbour, whose governorship ends in January, said Tuesday that he will not endorse another candidate for the nomination but will be active in the general-election campaign next year.
He said the field remains fluid because both party activists and big-money donors can't decide which candidate represents their best chance at beating Obama.
"I think that a lot of donors, just like a lot of precinct committeemen and -women and a lot of grassroots activists, want to wait until they feel comfortable that they've identified the Republican candidate with the best chance of winning in November 2012," he said.
Image credit: Getty Images/Justin Sullivan