The Rage of Rick Santorum
He wants to be the next Mike Huckabee, but unlike Huck, Santorum is the conservative who's mad at everybody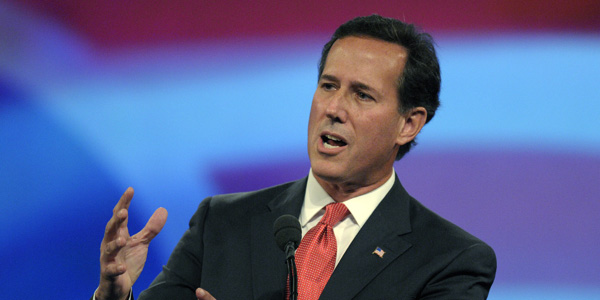 Rick Santorum, the presidential candidate and former Pennsylvania senator, told a story at Friday's Values Voter Summit about how he once won a legislative battle in the Senate: by grinding away at the opposition until they grudgingly recognized his merits.
Vermont Sen. Patrick Leahy, he said, took the Senate floor and "in a pained fashion, finally admitted that the arguments I was making ... were just too overwhelming to resist."
Santorum appears to be hoping Republican voters give him the same grudging respect.
He's a reliable social conservative, a formidable debater and a determined campaigner who came in fourth at the Ames straw poll. The chairman of Mike Huckabee's 2008 Iowa campaign, Bob Vander Plaats, even told National Review recently: "I think Santorum's campaign has a chance to be the Mike Huckabee" of the current cycle.
But there's a key difference between Santorum and Huckabee. The former Arkansas governor won over voters with his sunny outlook and sense of humor. "I'm a conservative, but I'm not mad at anybody" was his constant refrain.
Santorum, on the other hand, is mad at everybody.
In speeches, interviews and debates, his hallmark is a deep sense of grievance. He lashes out at the media that doesn't recognize him as a contender, the world that seems to have forgotten his distinguished career and, of course, his inferiors in the Republican field.
His speech Friday, to a friendly crowd, didn't single his competitors out by name (for a change), but he alluded to several of them. Of the 9-9-9 tax plan that is the signature of businessman Herman Cain, he said he could do better with a "zero-zero-zero plan."
While Rick Perry once said it was "fine with me" if states wanted to legalize gay marriage, Santorum vowed to fight against same-sex marriage in every state. (Perry later qualified his comments, saying he would support a federal anti-gay-marriage amendment.) In an implicit shot at those with thinner resumes, like Cain and Michele Bachmann, Santorum said the Obama presidency was proof that "experience matters." And he began his speech by noting that unlike those who don't make social conservatism their priority, "I have never put social issues, value issues, on the back burner."
But that was relatively mild compared to the many attacks Santorum has aimed at everyone within reach over the course of the campaign.
This week, he called Mitt Romney a "bully" for seeming to interfere in the primary calendar. In the last couple of debates, he's gone after Perry on illegal immigration and the Gardasil vaccine, at one point berating him so relentlessly that the moderator had to step in and tell him to quit. He's accused Jon Huntsman of insufficient confidence in America for wanting to pull troops out of Afghanistan and gone off on Ron Paul for his isolationist foreign policy.
It's a transparent bid for traction -- Santorum is convinced he'd be winning if only people paid attention to him. And he'll do almost anything to draw attention. Earlier this year, he even attacked former torture victim John McCain for being against waterboarding.
It's perhaps understandable that Santorum feels disrespected. A former congressman and two-term senator, he spent 16 years in Congress, where he helped pass welfare reform and wrote the partial-birth abortion ban. (That's the one he wore Leahy down on.) As he never tires of reminding you, he was working on issues like Social Security and Israel years before they came on the radar of the current campaign. And yet he is perhaps better known these days for his feud with a sex columnist, or, for those familiar with his political resume, as the incumbent whose state threw him out by a humiliating 18-point margin in 2006.
With his a depth of knowledge and experience on public policy, it must be infuriating for Santorum to see arrivistes like Michele Bachmann and Rick Perry taken seriously in the campaign. In fact, he admits as much: As he looks at his rivals on the debate stage, Santorum recently told the New York Times, he thinks, "I belong here -- I should be president, not these guys."
But that's the problem with Santorum: He can't stop venting his all-consuming resentment. In a recent interview with the Los Angeles Times, he was still seething about a months-old slight: "In the first Fox debate, they asked everybody one question and then they didn't ask me anything for 45 minutes. Like I was a potted plant. It was very frustrating."
There's no question conservatives are angry this year. They're looking for a fighter who can take hard swings at Barack Obama. But what Huckabee knew is that there's a difference between the happy warrior who likes his chances -- and the guy with the massive chip on his shoulder.
Image credit: Phelan Ebenehack/Reuters