The Pepper-Spraying Police Officer Should Be Punished
As yet, Anthony Balonga has lost 10 vacation days, a penalty that arguably hits New Yorkers in his jurisdiction hardest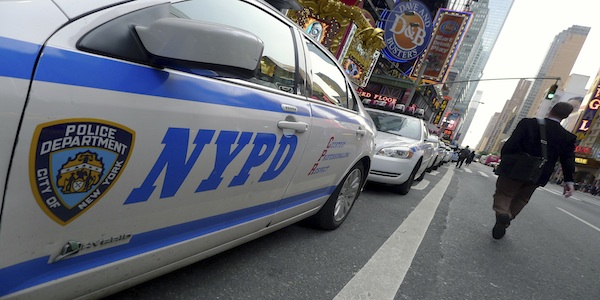 My moral intuition is that if anyone, whether police officer or civilian, needlessly and premeditatively disperses pepper spray to incapacitate people who present no threat to anyone, the arrest should be swift, the charge assault, and the perpetrator convicted and jailed.
Anthony Balonga, the New York City cop who pepper-sprayed helpless protestors, isn't facing criminal charges thus far -- in fact, though the NYPD deemed his use of force inappropriate, it decided on a penalty of 10 lost vacation days. As Gothamist put it, he's being punished for behavior unfitting a police officer with... having to do more police work. Watch out, New Yorkers!
The victims are pushing for a different outcome.
"A lawyer for an anti-Wall Street protester hit by pepper spray while being detained by police asked the Manhattan District Attorney to arrest the police inspector at the center of the controversy," the Wall Street Journal reports. "In letter sent Tuesday on behalf of protester Kaylee Dedrick to Manhattan District Attorney Cyrus Vance, attorney Ronald Kuby demands that the prosecutor file assault charges against Deputy Inspector Anthony Bologna and place him under arrest." Is there any question that he'd be arrested already if he were a member of the general public?
In dealings with the NYPD, including a couple long ride-alongs during my journalism school days, I've always been impressed by the judgment and professionalism of rank and file officers. But a police department that responds so inadequately to this sort of transgression sends a message throughout its ranks that needlessly incapacitating peaceful protestors isn't actually that big a deal. And a criminal justice system that excuses conduct from police that it would never tolerate from anyone else squanders a measure of the legitimacy it requires to be effective.
Critics of Occupy Wall Street have objected, with good reason, to the people polled in Zuccatti Park who expressed a theoretical willingness to use violence. Think how much greater an imperative there is to speak out against the illegitimate use of force when it is actually perpetrated by someone ostensibly acting on behalf of the public. In that spirit, I urge the district attorney to treat Balonga as he would anyone else who needlessly shot pepper spray at a group of women.

Image credit: Reuters