The Little Bit of Big Government in Rick Perry's Tax Plan
The Texas governor's proposal is intended to be everything a conservative could want -- so it's telling that it preserves the mortgage interest deduction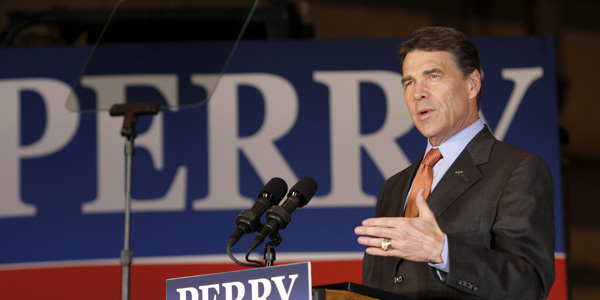 Kevin Drum aptly summed up Rick Perry's latest campaign proposal by noting that "it sounds less like a tax plan than a big ol' stew pot of right-wing applause lines." Take a look at it for yourself: "The plan starts with giving Americans a choice between a new, flat tax rate of 20% or their current income tax rate. The new flat tax preserves mortgage interest, charitable and state and local tax exemptions for families earning less than $500,000 annually, and it increases the standard deduction to $12,500 for individuals and dependents," Perry explains in the Wall Street Journal. "My plan also abolishes the death tax once and for all... we will eliminate the tax on Social Security benefits....We will eliminate the tax on qualified dividends and long-term capital gains..."
Can I confess something? I don't care whether you love or hate the plan. I just want to point out one grating component. After months of the conservative rank-and-file insisting that the financial crisis was caused mostly by the government, and its anti-free market subsidies that brought about a housing bubble, it's noteworthy and disappointing that a red meat candidate doing his utmost to please the base includes in his "flat tax" the preservation of the mortgage interest deduction.
He's proposing to radically change the whole system. It's his proposal, so he can set rates however he likes. And despite that, he's maintaining a status quo deduction that distorts the real estate market, acts as an incentive for Americans to invest in more housing, and does the most to benefit affluent homeowners in pricey urban enclaves. Take that you dirty, rotten apartment dwellers!
I get it. Homeowners love the mortgage interest deduction. And they also vote in large numbers. Thus the redistribution of wealth to this special interest group. Just so long as the Tea Partiers supporting this guy recognize this aspect of his tax plan for the big government, anti-free-market folly that it is.
Image credit: Reuters