The GOP's Most Confrontational Debate Yet
Republican candidates swarmed Mitt Romney and had some tense moments onstage during a CNN forum in Las Vegas
Republican candidates swarmed Mitt Romney and had some tense moments onstage during a CNN forum at The Venetian in Las Vegas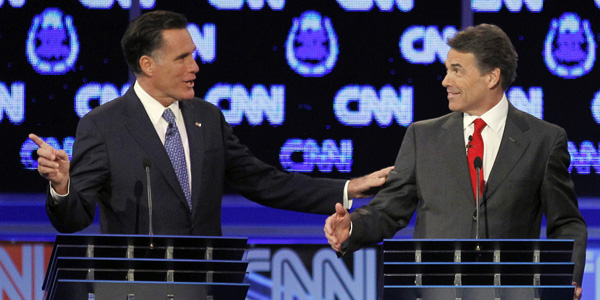 Las Vegas is accustomed to playing host to prize fights, but the the multi-direction fisticuffs on CNN's fit-for-professional-wrestling stage had the audience at Tuesday's Republican presidential debate ooohing and aahing, whether in admiration or dismay it was hard to say.
At any rate, no one can fault any of the candidates for timidity.
---
MORE FROM NATIONAL JOURNAL:
Obama's Speech Equipment Stolen in Va.
The Cook Report: 'Next in Line' Redux for Romney?
Official: N.H. Primary Date Still Undecided
---
Former Sen. Rick Santorum jumped on former Massachusetts Gov. Mitt Romney's credibility in criticizing President Obama's health care expansion, Romney battled back so aggressively that the two talked over each other, a conversation that dove further into unintelligibility when when Texas Gov. Rick Perry jumped in to Santorum's back. Later, Romney and Perry went at each other after Perry ricocheted a question about Texas's low insurance rate for children into an attack on Romney for hiring illegal immigrants, a reference to Romney's hiring of a lawn care firm that employed illegal immigrants. Romney has said he "gave the company a second chance" after asking it to ensure its employees were legal to work in the United States, and he only severed ties after a newspaper report about a year later reported that illegal immigrants were still working on Romney's property. The two went almost literally nose-to-nose, with Romney at one point touching Perry on the shoulder. "A tough couple of debates for Rick," Romney sniped.
When Perry cut in, Romney retorted, "You have a problem with allowing someone to finish speaking and I'd suggest that if you want to become president of the United States, you've got to let both people speak." Later, Perry tried to swing the momentum back against Romney, saying, "You're one of the problems, Mitt." Smiling and shaking his head, Romney cited crowd boos as a reason to move on. Likely to the next round.
Religion and politics
If the 2012 campaign had commandments, high on anybody's top 10 would be that Mitt Romney is not going to get tripped up on religion questions. When moderator Anderson Cooper posed a question based on Rick Perry backer pastor Robert Jeffress's charge that Mormonism is a cult, Romney played the peacemaker, saying it was sufficient for Perry to say he doesn't agree with Jeffress.
Perry did not, however, repudiate the pastor, and Romney criticized him for what he called a "troubling" suggestion that a candidate's religious preference should prove determinative rather than the "plurality of faiths" Romney said the Founders intended. Picking a president based on where the person worships, he said, would be an "enormous departure from the principles of our Constitution." Romney's problem, of course, is that many voters in the Republican primary do think religious preference is determinative, which may be why he doesn't want to raise the possibility he might be a victim of religious bigotry -- any more than Barack Obama wanted to raise the possibility of racial bigotry in 2008.
Cain in the crosshairs
Former pizza executive Herman Cain, suddenly at or near the top of national polls, immediately became the focal point of Tuesday night's presidential debate in Las Vegas, but seemed to enjoy his role.
The first question, about taxes, triggered a barrage of criticism of the former pizza executive's signature 9-9-9 plan to replace the current tax code with a nine percent tax on personal income, corporations and sales.
Michele Bachmann, Rick Santorum, Rick Perry, Ron Paul, Newt Gingrich and Mitt Romney all criticized Cain's plan as unworkable or unfair but Cain came prepared. "It is a jobs plan, it is revenue-neutral, it does not raise taxes on those that are making the least." He said "lobbyists, accountants, politicians" were hoping to block a "simple and fair" plan from replacing the "10 million word mess" that he said the current tax code is.
When Santorum cited a study's conclusion that 84 percent of Americans would pay more under Cain's plan, Cain answered, "That simply is not true." In crisp, clearly prepared answers, Cain repeatedly invited voters to study his campaign's own analysis. While his rivals appeared eager to pile on, they also paid tacit tribute to Cain's sudden popularity. "I love his boldness," said Santorum. Gingrich added that Cain deserves credit for setting the tone for a serious debate.
'Romneycare' fireworks
Here's the fierce of criticism of Romney's health care plan some conservatives have hoped for: Santorum said Romney's previous support in Massachusetts for an individual mandate raises doubts about whether he'd repeal President Obama's health care bill.
"Governor Romney, you don't have credibility when it comes to 'Obamacare,'" Santorum said. "Your plan was the basis for 'Obamacare.' To say you're going to repeal it -- you have no track record on that that we can trust you that you're going to do that."
Romney began to defend himself, but Santorum repeatedly interrupted him. Perry even chipped in as the two men argued, saying the former Massachusetts governor had removed parts of his book about his health-care bill.
"I tell you what? Why don't you let me speak, Rick," said Romney. "You had your chance, why don't you let me speak?"
The ex- Bay State governor had largely avoided intense scrutiny in previous debates, but it seems his rivals are intent on attacking him tonight over what might be his most sensitive issue. Gingrich called Romney's plan a bureaucratic mess, before Romney shot back that he got the idea for an individual mandate from Gingrich.
GOP to world: Fuggedaboutit
Where would Republican presidential candidates cut first? Foreign aid.
The GOP field -- including Romney and Perry -- were almost unanimous in calling for big cuts in the foreign almost unanimously agreed they could cut financial support for other countries.
Perry said the entire United Nations should be on the chopping block. "I think it's time not only to have that entire debate about all of our foreign aid, but in particular the U.N.," he said, drawing cheers from the crowd. "Why are we funding that organization?" Romney argued the country needs to solve its own debt problems before handing out aid to foreign nations.
"It doesn't make a lot of sense for us to borrow money from the Chinese to give it to another country for humanitarian aid," he said. "We ought to get the Chinese to take care of the people."
The only exception to their united front: Israel. Paul said he would not spare the Jewish state from the budget axe, arguing that U.S. aid makes Israel dependent. But most of his rivals took a different tack. "Cutting foreign aid," said Bachmann, "is one thing." Israel another.
"Israel is our greatest ally. The biggest problem is the fact that the president -- the biggest problem with this administration in foreign policy is that President Obama is the first president since Israel declared their sovereignty put daylight between the United States and Israel. That heavily contributed to the current hostilities that we see in the Middle East region."
Perry: Don't fence me in
Defending himself on a controversial issue that has dogged his campaign, Perry insisted that building a border fence to stop illegal immigration is a bad idea.
"The way you really stop (illegal immigration) ... is to put boots on the ground," Perry said. "I will tell you, you put a lot of boots on the ground. You use predator drones that are being trained right up here in the air force base in Nevada to use that real-time information to give those boots on the ground that information."
Texas's policy of granting in-state tuition for children of illegal immigrants -- and Perry's strong defense of that policy -- has raised hackles among Republican conservatives. When Perry tried to put the blame on the federal government lax border security, Romney scoffed that Perry claiming experience on immigration is "a bit like saying the college coach that has lost 40 games in a row to go to the NFL."
Occupy Romney
Romney dodged a direct question about his opinion of the Occupy Wall Street movement, saying what caused the economic collapse is not as important as the president's poor economic stewardship afterward.
"Over the last three years we've had a president responsible for this economy for the last three years and he's failed us," Romney said. "He's failed us in part because he has no idea how the private sector works or how to create jobs. On every single issue he's made it harder for our economy to reboot."
The left-leaning movement has become tricky territory for Republican politicians, with many polls showing that, at least for now, it's popular with the public. But criticizing it is still a golden opportunity for a GOP candidate to serve red meat to the conservative base, and Romney's dodge indicates he's looking past the nomination fight to November.
The ex-governor seemed to make one faux paus: He said the president did not have a jobs plan. Obama has touted for months a roughly $450 billion jobs plan to boost the country's employment.
The Background
Seven Republican presidential contenders descend on Las Vegas on Tuesday night for their first debate since Cain clambered next to Romney atop the polls, pinning Cain in the crosshairs of the other contenders hoping for a turn as the chief alternative to the front-runner for the GOP nomination.
If that's a familiar narrative--a Romney rival goes under the klieg lights at a debate--it's because former Minnesota Gov. Tim Pawlenty and Texas Gov. Rick Perry both served it up before. And both wilted. Pawlenty withdrew from the race and then endorsed Romney, and Perry is combating questions about his continued viability as a candidate after a series of stumbles and weak debate performances.
Tuesday night, it's Cain's turn. A puzzling appearance Sunday on Meet the Press, in which Cain professed a lack of familiarity with neoconservativism, suggests that his nontraditional path to a statistical tie for the lead in national polls is due for more twists. Cain also recently stumbled trying to elucidate his views on building an electrified fence along the Mexican border, initially saying he was joking about the proposal and then saying he actually supported it.
Lone Star Shining
Who's this Texas governor on stage? In his first remarks Tuesday night, Perry had perhaps his best debate moment yet. He described himself in his introduction as "an authentic conservative, not a conservative of convenience," a not so subtle jab at Romney, whom Perry has accused of flip flopping on health care, among other things. Then he landed a series of body blows on Cain's "9-9-9" plan.
"Herman, I love you, brother, but you don't need to have a big analysis to figure this thing out," he said. "Go to New Hampshire, where they don't have a sales tax, and you're fixing to give them one. They're not interested in 9-9-9. What they're interested in is flatter and fairer."
Perry, who unveiled an energy plan late last week, said he'd reveal more of his economic agenda later this week. Strategically, it makes sense for him to attack Cain, who has supplanted him the polls as the conservative alternative to Romney. Perry's pervious four debates have been marred by stumbling responses that have left some doubting he's a credible choice for president.
Huntsman MIA
Tonight's GOP presidential debate will be without one familiar voice: Ex-Utah Gov. Jon Huntsman is at this hour bragging about his absence from the Las Vegas stage at a town hall meeting in Hopkinton, N.H. "What happens in Vegas stays in Vegas," Huntsman crowed to enthusiastic applause, according to National Journal/CBS New campaign reporter Lindsey Boerma, who is at the event. In an email released minutes before the debate was to begin, Huntsman says he has chosen to "show my solidarity" with the Granite State's efforts to put some distance between its first-in-the-nation primary and Nevada's proposed Jan. 14 caucus date. Granite State officials are threatening to move their primary date as far up as early as December.
Huntsman has seized on the chance to stand up for the state, which he is focusing on exclusively to resuscitate his thus far disappointing campaign. During the first of two town halls held in New Hampshire on Tuesday - he's holding another during the debate - he criticized the rest of the field for ignoring the Granite State.
"All I can say is they're missing out on a huge opportunity by not embracing the a total boycott of the Nevada caucus and doing what the New Hampshire would expect," said Huntsman. "And that's to stand in a town hall meeting, delivering a vision for this country, and taking questions from average voters here. I think that's where the action is, that's what going to ultimately allow one to win the New Hampshire primary, and in a critical time when we need to be discussing our economy and how we're gonna create jobs, that's how it's done. So I'm happy to be here."
Huntsman's debate performances have been marked more for their bizarre jokes than successful showings, with jokes about Kurt Cobain and natural gas eliciting on crickets from the audience.
The rest of the field
Perry's logy performance in his first four debates raised questions about his aptitude on issues. But success on the fundraising front--he raked in $17.2 million in the third quarter of the year--shows that the Texas governor, who has never lost a race, has incentives to stay in.
Any one of the lesser candidates would love to use the debate to bring Romney down a notch or two. In spite of the lack of enthusiasm ideological conservatives express for him, Romney has withstood repeated charges at his position at the top of most polls, the latest from Cain. He has another chance on Tuesday night to show off his enduring ability to disarm his opponents' attacks. Despite his soft spots--a mixed record on the abortion issue, a Massachusetts health care law unpopular with conservatives, and an inconsistency on other issues--Romney has yet to be tripped up in a substantial way. Former Ambassador to China Jon Huntsman, who not long ago governed neighboring Utah, is skipping the debate, sponsored by CNN and the Western Republican Leadership Conference. He instead is holding a town hall-style meeting in Hopkinton, N.H., where he is supporting state officials in their battle with Nevada over the scheduling of primary and caucus dates.
Nevada Republicans set their caucus for Jan. 14, just 11 days after the Jan. 3 Iowa caucus, crowding out New Hampshire, which, according to state law, must set its primary seven days before another similar contest. That would mean holding a primary on Jan. 7, just days after the Iowa caucuses and on a Saturday.
The dispute prompted four other candidates to also declare they would boycott the Nevada caucuses if the state GOP does not back off: Cain; Huntsman; Rep. Michele Bachmann (R-Minn.); former House Speaker Newt Gingrich; and former Sen. Rick Santorum (R-Pa). All of the avowed Silver State skippers, except for Huntsman, will appear on stage Tuesday night. Rep. Ron Paul (R-Texas) has said he would not join the boycott.
Billed as a chance to bring a national focus on issues confronting the West, the debate will also offer Republican candidates a chance to pile on President Obama's three-day "jobs tour" to Southern battlegrounds North Carolina and Virginia.
In 2008, Romney soared in the Nevada caucuses, racking up 51 percent of the vote, followed by Paul at 14 percent and Sen. John McCain (R-Ariz.) at 13 percent. Romney benefited then from his solid performance managing the 2002 Olympics in nearby Salt Lake City, and by his religious ties to Nevada's large Mormon population.
But Nevada also presents an obvious chance for Perry to dent Romney's end-it-quickly strategy, which hinges on minimizing Iowa and matching expectations in New Hampshire. That would give Romney the opportunity to roll into Nevada with momentum and post two swing-state wins before heading into the Southern primaries. If Perry can triumph in Nevada, his win would likely blunt Romney momentum in South Carolina and Florida. Joining Romney atop recent polls has been Cain, who was probed lightly during last week's debate over his "9-9-9" proposal creating a 9 percent tax rate on individual income, corporations, and consumer sales. Cain's surge will likely lead to deeper scrutiny on Tuesday night.
Image credit: Chris Carlson/AP