The 2012 Primary's Missing Domino
The nominating calendar now has a month-long dead zone that could kill the front-runner's momentum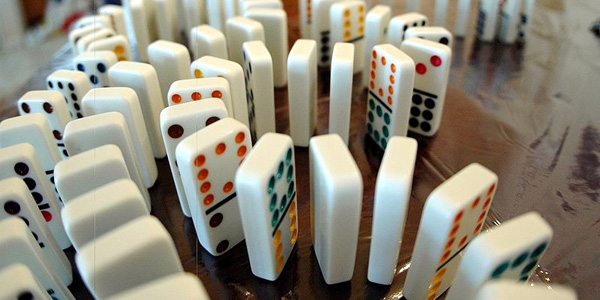 When Florida last week scheduled its 2012 primary for Jan. 31, it pushed the Republican presidential primary nominating calendar into early January. The Iowa caucuses now stand to be held shortly after New Year's, possibly even earlier.
But there's another, less heralded effect to this change: a month-long gap between the early states and Super Tuesday.
In a nominating process that typically hinges on a domino effect of momentum that builds to give one candidate a prohibitive advantage, there's now a missing domino.
The effect on the race for the Republican nomination could be major. It means that even if one candidate accomplishes a clean sweep of the early states -- Iowa, New Hampshire, Nevada, South Carolina and now Florida -- that will be followed not by a flood of simultaneous primaries that seal the nomination, but rather a momentum-killing dead zone that gives challengers time to rearm.
Assuming those five states have all voted by Jan. 31, they'll be followed by a February that's virtually devoid of primaries.
There are caucuses in Colorado, Maine and Minnesota on Feb. 7 -- and then nothing until Feb. 28, when Arizona and Michigan are scheduled to hold primaries. Super Tuesday, when 12 states are scheduled to vote, isn't until March 6.
"I think the 'Florida will prove decisive' angle is being overplayed in the wake of their move last week," said Josh Putnam, a Davidson College professor who closely tracks primary calendar developments on his Frontloading HQ blog.
"Florida won't be the contest to propel a candidate or the race into Super Tuesday. It will send the contest into a relatively barren February," Putnam said. By contrast, within a week of 2008's late-January Florida primary, more than 20 states had held primaries.
It's difficult -- and highly speculative -- to game out what this means for the candidates at this point, but Putnam's theory is that the calendar gap could help Rick Perry because of the preponderance of Southern states holding Super Tuesday contests.
The 12 Super Tuesday states include Georgia, Oklahoma, Tennessee, Texas and Virginia -- all potentially receptive states for Perry.
If Mitt Romney does well in the early states -- he's expected to be especially strong in New Hampshire, Nevada and possibly Florida -- Perry, assuming he's stanched his current slide in the polls and remains the main Romney foil, has a strong motive to stick around.
With Perry's announcement Wednesday that his campaign has raised $17 million, he'll certainly have the resources to do so.
So while the primary balloting is starting early, possibly even before 2012 begins, it won't necessarily be wrapping up early.
As Putnam says: "What this means is that the accumulation of delegates will be much slower and that a knockout punch early is not as likely."
Image credit: Wikimedia Commons