The influential Iowa congressman shares GOP voters' indecisiveness over the 2012 Republican presidential primary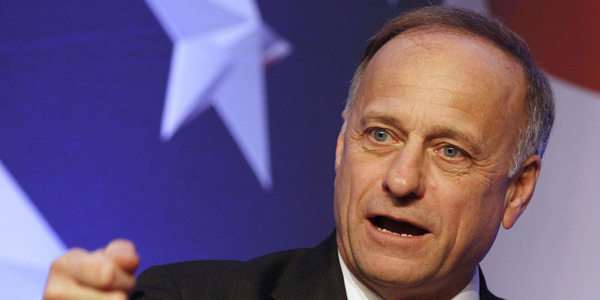 Iowa Rep. Steve King, one of the most conservative members of Congress, has a dilemma.
He's a major Republican power broker in one of the presidential primary's most important states. He wants to use his clout to help a 2012 candidate. But he just can't make up his mind.
King's plight typifies that of many GOP voters. Three months before voting is set to begin, the polls remain remarkably fluid as grassroots conservatives, most of whom distrust Mitt Romney, can't decide who represents the best alternative -- a true-blue conservative who can win the general election.
"I have said I wanted to come together with my head and my heart, and if I could do that, I'd jump in with both feet," King said in an interview. "It sure would be nice for that to happen. Life would be a lot simpler."
Complicating matters for King, his best friend in Congress, Rep. Michele Bachmann, is one of the candidates. If he doesn't back her, it would be a personal snub and a potentially fatal blow to her Iowa-dependent campaign.
In Iowa, King said, "People like her. They want to support her. If she has a couple of good debate performances where she takes command of the stage," she could come back from her current slump in the polls. "She's right on the issues," he added, calling her the "clearest one" of the candidates when it comes to being a "full-spectrum conservative." Like many conservatives, King has questions about Rick Perry, the Texas governor who has risen and then sunk in recent polls. "I think is [a true conservative], but there are some issues that need to be discussed in more depth," King said.
In particular, King wanted a clearer understanding of Perry's stance on immigration. He didn't appreciate Perry's comment in the last debate that those who don't agree with him on that issue "don't have a heart."
"I've been accused of that a lot," King said, from the beginning of his career in the Iowa state legislature. "Conservatives get used to being accused of being heartless."
He said he also needed to see Perry more clearly explain what his electoral messages would be on social security and foreign policy.
King has a lot of sway with the conservative voters of Iowa, particularly his district in western part of the state. "I owe it to the folks in Iowa to tell them what I think because I have such fantastic access to the candidates," he said. "It's like voting present if you don't."
But he doesn't know when he'll make a decision. "I'm hoping something happens that brings this forward with a clarity that brings me a sense of confidence," he said.
Image credit: Larry Downing/Reuters