Senate Blocks Obama's Jobs Bill
Republicans voted en masse against the president's economic package, dimming its prospects of eventual passage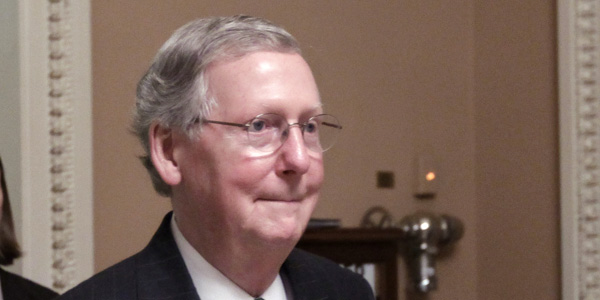 President Obama's jobs bill was defeated in the Senate on Tuesday. While the vote remained open, it failed to attract enough support to stay alive in the chamber. The vote may end the bill's legislative life as a unified package while opening the door for efforts to pass pieces of it in coming months.
---
MORE FROM NATIONAL JOURNAL:
Iran Containment Strategy Cast in Doubt
Bachmann Unveils Jobs Plan
Feisty Romney Barnstorms Granite State
---
Republican opposition had assured defeat of the jobs bill for some time but Senate Majority Leader Harry Reid (D-Nev.) has worked for weeks to try to unify Democrats in support of cloture on the package. Democrats hoped their relative unity would highlight GOP opposition to a measure that polls well.
After inserting a provision to pay for the bill by raising income tax rates by 5.6 percent on people who earn more than a $1 million a year, Democrats accused the GOP of blocking the legislation both to deny Obama a victory and to protect millionaires at the expense of the rest of the country.
"Folks should ask their senators, why would you consider voting against putting teachers and police officers back to work?" President Obama said in a speech Tuesday in Pittsburgh. "Ask them what's wrong with having folks who have made millions or billions of dollars to pay a little more."
Democratic messaging was muddled Tuesday by opposition from several Senate Democrats. Two other Democratic Caucus members, Sens. Joe Lieberman (I.D.-Conn.) and Jim Webb (D-Va.) faulted the bill even as they agreed to vote for advancing it Tuesday.
Senate Democrats now plan to try to maintain a focus on jobs by pushing pieces of the package. Provisions that could move alone in coming weeks include a proposal to extend a payroll tax break for employees. The Senate on Wednesday is expected to pass free trade agreements with South Korea, Columbia and Panama. Members in both parties tout those deals as job creators.
Image credit: J. Scott Applewhite/AP