Rubio Calls Washington Post Story 'Outrageous'
The paper reported that the Florida senator embellished his family's history, finding that his parents left Cuba before Castro came to power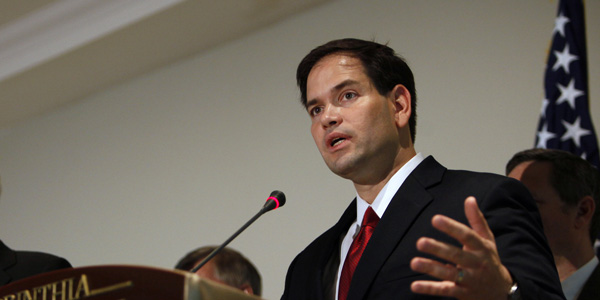 Sen. Marco Rubio (R-Fla.) on Thursday called "outrageous" a Washington Post story that concluded Rubio embellished the saga of his family's history.
---
MORE FROM NATIONAL JOURNAL:
Perry's Fundraising Plummeted in September
White House Influence in Middle East Wanes
How Redistricting Can Turn Friends Into Foes
---
In review of naturalization and other official records, the Post found among other things that Rubio's parents "came to the United States and were admitted for permanent residence more than 2 ½ years before Fidel Castro's forces overthrew the Cuban government and took power" in 1959.
Rubio has told audiences that his family was forced off the island after a "thug," Castro, took power.
"To suggest my family's story is embellished for political gain is outrageous," Rubio said in the statement. "The dates I have given regarding my family's history have always been based on my parents' recollections of events that occurred over 55 years ago and which were relayed to me by them more than two decades after they happened. I was not made aware of the exact dates until very recently.
"What's important is that the essential facts of my family's story are completely accurate," Rubio concluded.
Image credit: Abdel Magid al-Fergany/AP