Ron Paul's Plan to Cut the Deficit, End Parts of the Government
The libertarian Texas congressman offered up nearly $1 trillion in cuts, challenging his 2012 rivals in a speech in Las Vegas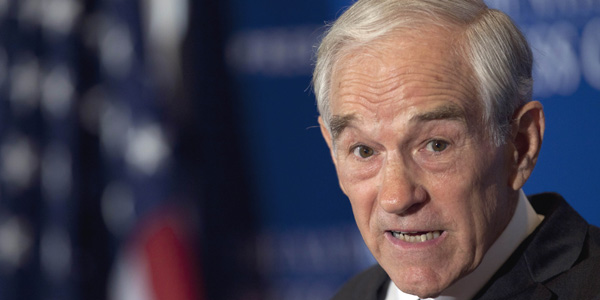 In what was billed as a "major announcement," on Monday Ron Paul introduced his plan to slash the national deficit and abolish large swaths of the federal government.
The plan would cut nearly $1 trillion in spending during the first year of a Ron Paul presidency.
"A lot of people will say, 'Cutting a trillion dollars in one year? That sounds radical,'" Paul said in a speech at The Venetian resort and casino in Las Vegas. "I operate on the assumption that the radicals have been in charge way too long."
Some highlights of Paul's plan:
Cuts $902 billion in spending during the first year of a Paul presidency compared to current spending levels, or $981 billion compared to President Obama's budget request
Eliminates five federal departments: Energy, Housing and Urban Development, Commerce, Interior, and Education
Lowers the corporate tax rate to 15 percent
Makes a 10 percent reduction in the federal workforce
Eliminates all U.S. foreign aid
Allows younger citizens to opt out of Social Security
Converts the federal Medicaid program into block-grants distributed to states
Over its first four years, Paul's plan would cut over $4.1 trillion in spending while bringing in $2.9 trillion less revenue, reducing the projected deficit by $783 billion according to the Paul campaign's own comparison to the Congressional Budget Office's baseline projections of current spending levels
The Texas congressman and libertarian star suggested drastically reducing what the U.S. spends on foreign military operations, in keeping with his adamant opposition to the wars in Iraq and Afghanistan.
"We cut from the militarism and not one penny from the veterans, and not one penny from defense," Paul said on Monday. He has previously sought to draw distinctions between military spending that funds wars abroad and true "defense" spending to protect the U.S. from attacks.
"The other candidates have not offered this," Paul said of his plan. "I don't believe they think it's very serious. They think they can just tinker around the edges, but the American people are ready for some honest thinking and some honest reforms ...
"Everything that's not explicitly in the Constitution should be up for grabs, and we should be able to cut it," Paul said.
Paul has struggled to attract media attention, and his speech was carried live by neither CNN, MSNBC, nor Fox News. Paul has received the least news coverage of any major presidential candidate, according to a study published Monday by the Pew Research Center's Project for Excellence in Journalism. Paul's campaign had released the deficit plan around 1 p.m. Eastern on Monday.
Republican candidates will gather for a nationally televised debate in Las Vegas at 8 p.m. Eastern.
Image credit: Carolyn Kaster/AP