Romney's Plea for 'Decency' at Values Summit
His call for tolerance amid anti-Mormon furor puts Rick Perry in yet another awkward situation with religious conservatives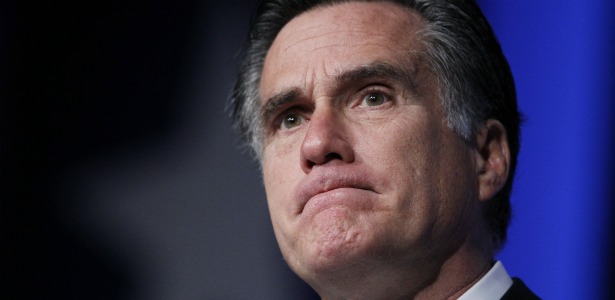 What was supposed to be a routine paying of respects to the culturally conservative strain of the Republican Party has turned into a faceoff between Rick Perry and Mitt Romney over religion and tolerance.
Romney devoted a passage of his speech to the Values Voter Summit Saturday to a preemptive upbraiding of the man who would follow him on the program, a talk-show host known for his tirades against homosexuality, evolution, Islam -- and Mormonism.
"Our values ennoble the citizen and they strengthen the nation. We should remember that decency and civility are values too," Romney said. "One of the speakers who will follow me today has crossed that line, I think."
It was a reference to Bryan Fischer, who would follow Romney on the program with a predictably inflammatory set of remarks. But it was also an implicit rebuke to Rick Perry, whose campaign found itself scrambling Friday to explain why it had allowed the Texas governor to be introduced by a Dallas pastor, Robert Jeffress, who afterward loudly and proudly told reporters he believes Mormonism is a cult and its adherents not Christians.
"Poisonous language does not advance our cause," Romney added. "It has never softened a single heart nor changed a single mind. The blessings of faith carry the responsibility of civil and respectful debate. The task before us is to focus on the conservative beliefs and the values that unite us. Let no agenda narrow our vision or drive us apart."
Sure enough, in his speech after Romney's, Fischer called evolution a "morally and scientifically bankrupt" theory and said, "Christians and Muslims do not worship the same god." He didn't repeat his previously spoken view that Mormons aren't protected by the First Amendment. The response from the sparse audience that remained in the room was tepid.
For Romney, little loved by this crowd anyway, there wasn't much risk in further alienating them with what might be seen as a cry for political correctness. His speech was more dutiful than passionate and didn't receive a single standing ovation.
Perry, on the other hand, is in a bind. He needs the values vote, and not long ago it would have seemed strange that he would have to fight for it. After all, he staged a prayer rally in Texas shortly before he launched his presidential run that drew 30,000 people to a stadium in Houston -- and featured plenty of speakers with controversial histories.
But Perry's support has eroded thanks to attacks on his right flank, and his speech Friday ideally would have helped shore it up. Jeffress's introduction and Perry's speech both seemed aimed at reassuring the values voters that Perry was one of them -- as Jeffress put it, not merely a "good, moral person," but "a born-again follower of the Lord Jesus Christ."
Taking the stage afterward, Perry thanked Jeffress, saying he had "knocked it out of the park" and calling him "quite a leader."
Perry's campaign was clearly caught off guard by the furor that followed, though Jeffress was not. The pastor was positively gleeful, sticking around the convention hotel for hours to explain his theology to absolutely every member of the media in attendance.
Perry left the stage before 3 p.m. and headed off to Iowa. At 6 p.m., Jeffress could be found in front of a bank of television cameras. At 7:30, he could be seen in the hallways talking on his cell phone, apparently to radio interviewers.
Asked in Iowa whether he thought Mormonism was a cult, Perry said no, but didn't elaborate.
The longstanding question of Romney's Mormon faith is often tiptoed around by voters and the press but rarely raised by the rival candidates. The problem is that as a technical, theological point, many evangelicals agree with Jeffress -- including the official doctrine of the Southern Baptist Convention as well as Tony Perkins, president of the Family Research Council, which hosts the Values Voter Summit.
Perry doesn't need any more disagreements with this part of his party. But no politician wants to be seen as attacking another's faith.
Bill Bennett, the radio host and former education secretary, who is a Catholic, spoke before Romney and addressed the issue directly, telling the audience they must not "give voice to bigotry," and arguing that ugly distractions like these would hurt the GOP.
"I would say to Pastor Jeffress: You stepped on and obscured the words of Perry" as well as the other candidates, Bennett said. "You did Rick Perry no good, sir, in what you had to say."
Or as the event's emcee kept admonishing the crowd, the media can't wait to paint the values voters as a bunch of kooks -- don't let them.
"Don't be the weird one," the emcee, Family Research Council official Gil Mertz, intoned, making the audience chant it with him.
It was a memo Jeffress and Fischer clearly didn't get.
Image: AP