Romney Leads in Early Primary States
Heading into Tuesday night's GOP debate, the former governor is the Republican Party's front-runner in Iowa and New Hampshire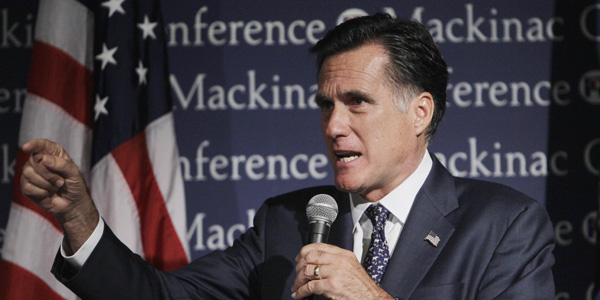 The 2012 Republican presidential primary calendar is still in flux, but new NBC News-Marist polls out early Tuesday show Mitt Romney leading the field in both Iowa and New Hampshire, with his lead in the Granite State is considerably more significant.
---
MORE FROM NATIONAL JOURNAL:
Republicans Embrace Cain as Anti Washington
Blame Government for ATM Fees, Bachmann Says
Feisty Romney Barnstorms Granite State
---
The former Massachusetts governor leads among likely Republican primary voters in New Hampshire with 44 percent, trailed by businessman Herman Cain and Rep. Ron Paul, R-Tex., both of whom are at 13 percent. Texas Gov. Rick Perry is at just six percent, and former Utah Gov. Jon Huntsman trails the field, with five percent. Eleven percent of likely primary voters are undecided.
In the Hawkeye State, Romney's lead is far more precarious: He leads Cain, 23 percent to 20 percent. Paul is at 11 percent, while Perry and Rep. Michele Bachmann, R-Minn., are at 10 percent. But Romney hasn't campaigned much in a state, whose caucuses are traditionally dominated by social conservatives, and his first-place standing illustrates how split the most-conservative activists are.
The precipitous falls of Perry and Bachmann in Iowa are notable. Cain has claimed the Tea Party mantle in the state -- for the time being -- garnering the support of 31 percent of likely caucusgoers who support the Tea Party, and more than 40 percent of those who "strongly" support the Tea Party.
The early-state polls also show each is setting up to be a battleground in the general election. President Obama's approval rating in Iowa is only at 42 percent, and just 38 percent of New Hampshire voters approve of the job he is doing.
Romney leads Obama in New Hampshire, 49 percent to 40 percent. In Iowa, Obama has a slight lead, 43 percent to 40 percent, though he is still far from keeping the state in his column in 2012.
Both polls were conducted by the Poughkeepsie, N.Y.-based Marist College Institute for Public Opinion as part of a new partnership between the school and NBC News. The Iowa poll was conducted Oct. 3-5, surveying 2,836 registered voters, for a margin of error of +/- 1.8 percent. There were 371 likely Republican caucusgoers, for a margin of error of +/- 5.1 percent.
The New Hampshire poll was conducted over the same time period, surveying 2,218 registered voters, for a margin of error of +/- 2.1 percent. There were 691 likely Republican primary voters, for a margin of error of +/- 3.7 percent.
Image credit: Carlos Osorio/AP