Rick Perry Unveils His Energy-Jobs Plan
The Texas governor told an audience of steel-mill worker outside Pittsburgh that rolling back drilling regulations would boost the economy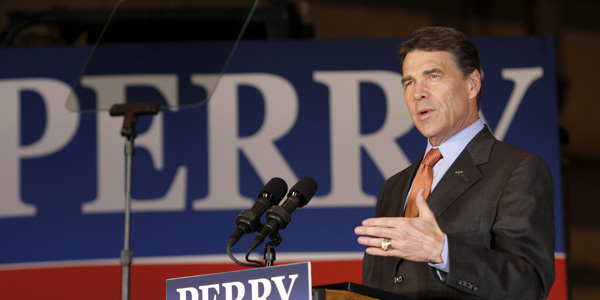 In a major address meant to re-energize his flagging presidential campaign, Rick Perry said on Friday that removing onerous environmental regulations girding domestic energy production is the most effective and fastest way to jump start the U.S. economy.
---
MORE FROM NATIONAL JOURNAL:
Perry, Like Obama, Touts Questionable Job Gains
Blackberry: Still No. 1 in Congress
Obama's Performance Rating Slips Again
---
"The quickest way to give the economy a shot in the arm is deploy American ingenuity to tap American energy," said Perry, speaking at a steel mill outside of Pittsburgh. "But we can only do that if environmental bureaucrats are told to stand down."
The site of his speech was symbolic: The Western Pennsylvania plant sits on top of a huge natural-gas deposit, called the Marcellus shale region that stretches from West Virginia to upstate New York. In addition to natural gas, he touted ramping up coal mining and offshore oil drilling--ideas that draw opposition from environmentalists.
The plan, according to the Texas governor, would add 1.2 million jobs to the economy. "My plan is based on this simple premise: Make what Americans buy, buy what Americans make, and sell it to the world," he said. "We're standing on top of next American economic boon. It's the energy underneath this country."
He emphasized that he would enact much of his proposal through executive order. Bypassing Congress would expedite the plan's implementation, he said.
Environmental groups have reacted with alarm to Perry's proposals. The groups have been fighting with the energy industry over whether the Environmental Protection Agency should set standards to limit air pollution associated with natural-gas drilling.
"Governor Perry is using the economy as an excuse to push the agenda of big polluters, but the health and welfare of Pennsylvanians would be the real victims of this plan," said Adam Garber, field director for the group PennEnvironment.
"So far, gas drilling has been one disaster after another for our air, land, and water here in Pennsylvania," Garber said. "Governor Perry's proposal to keep the Texas-based oil and gas industry virtually unregulated will doom our state to more of the same - more pollution, more explosions, and more parks and forests decimated."
Energy production is just one part of Perry's economic agenda, which he said he would roll out in the coming days. It comes at a critical time for his campaign: Poor debate performances and a moderate stance on immigration have hurt Perry, with polls showing him falling well behind Mitt Romney and Herman Cain after he led both men just a month ago.
The Texas governor had been previewing his energy message all week as it constituted the bulk of his talking points at both an economic debate at Dartmouth University on Tuesday and a speech to the Indianapolis GOP the next day. He previewed more details of the plan in an op-ed in the New Hampshire Union Leader earlier this week.
About 150 workers--all wearing hard hats and goggles--gathered in chairs to watch the speech. They gave Perry a polite but not overly enthusiastic reception.
Image credit: Keith Srakocic/AP