Rick Perry Has a Lot of Money for a Fading Candidate
After awful debate performances, politicos say his run is through. But he's got more than $17 million in the bank. What will he do with it?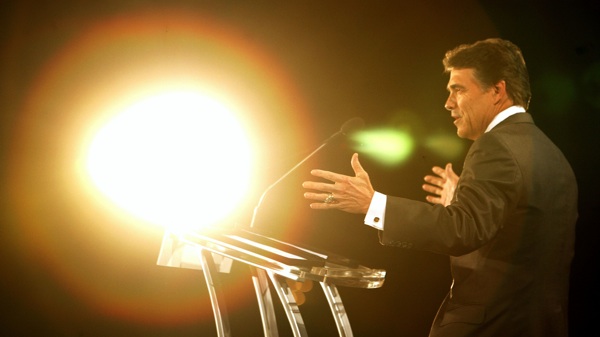 Tuesday night's GOP debate crystallized the position in which Republican voters find themselves: the man they're reluctant to nominate, Mitt Romney, was the most effective communicator by a significant margin, showed easy command of the issues, and made no significant errors. Gov. Rick Perry, who many Tea Partiers prefer, wasn't just a less polished performer -- he repeatedly fumbled over his words, gave only forgettable answers, and appeared to be sapped of energy, as if he'd taken medication just before air time that made him drowsy.
Herman Cain, a charismatic man who rarely gets rattled, isn't ultimately an acceptable nominee: he fails to realize that Americans would elect a president without prior experience in government only if he worked extra hard to demonstrate the knowledge it takes to govern. And as much as it upsets his supporters, Ron Paul's foreign policy views make his winning almost impossible in today's GOP.
I'm no more enthusiastic about Romney than anyone else. Personally, I'd prefer Gary Johnson. My gut feeling is that Jon Huntsman would make a better president too. But the Tea Party did more to elevate Michele Bachmann than the libertarian candidates, and big GOP donors divided their loyalties among Romney and Perry. Said Cameron Joseph before the debate, sizing up its import to Perry, "If he can't do better than he has in previous events, the hefty $17 million he raised last quarter won't be able to save the Texas governor's campaign." He didn't do better.
If the conventional wisdom is correct, and Perry continues to fade, as he certainly deserves based on debate performances, the most significant question is, "What will he do with that $17 million?"
Spend it savaging Romney?
Image credit: Reuters