Rick Perry Flirts with Birther Beliefs After Dining with Trump
Asked about the birth certificate released by President Obama, the Texas governor said he didn't know if it was real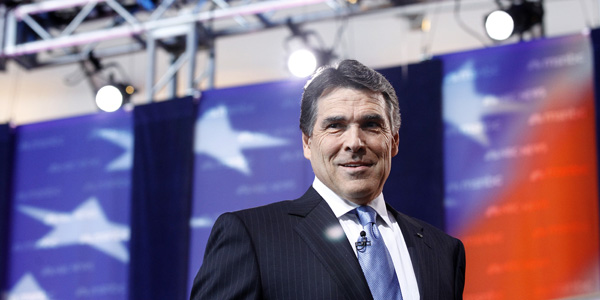 Not content to be under attack for his support for instate tuition for certain illegal immigrants at Texas colleges, Gov. Rick Perry raised another birthright issue in an interview with Lynn Sherr for Parade magazine, saying he was uncertain whether President Obama's birth-certificate showing was born in the United States was real. From the story, published Sunday:
Governor, do you believe that President Barack Obama was born in the United States?
I have no reason to think otherwise.

That's not a definitive, "Yes, I believe he"--
Well, I don't have a definitive answer, because he's never seen my birth certificate.

But you've seen his.
I don't know. Have I?

You don't believe what's been released?
I don't know. I had dinner with Donald Trump the other night.

And?
That came up.

And he said?
He doesn't think it's real.

And you said?
I don't have any idea. It doesn't matter. He's the President of the United States. He's elected. It's a distractive issue.
The White House released Obama's long-form Hawaii birth certificate in April after developer Donald Trump gave new fuel to conspiracy theories that Barack Obama is not a natural-born American citizen and therefore lacks standing to serve as president. The Obama campaign, in an effort to address such beliefs head-on, now sells mugs and T-shirts bearing an image of the president's birth certificate along with the text, "Made in the U.S.A."
Image credit: Mario Anzuoni/Reuters